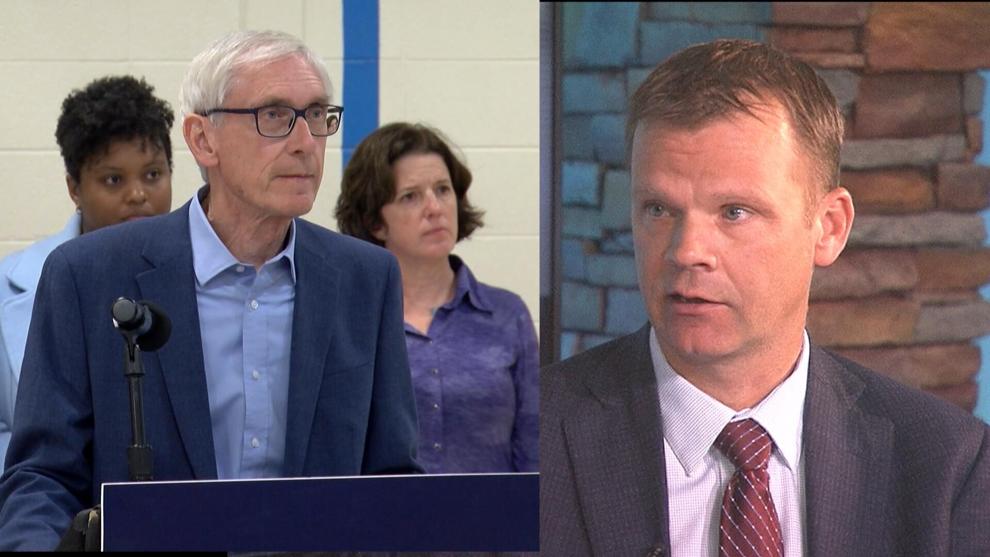 MADISON (WKOW) -- Following the midterm elections, both Democratic Gov. Tony Evers and Republican leaders in control of the legislature have reason to believe they're in positions of strength.
After all, Evers won re-election by beating Republican challenger Tim Michels by three points - landslide by Wisconsin standards. Meanwhile, legislative Republicans capitalized on rural counties becoming even more conservative, as well as gerrymandered maps, to gain even more seats in the legislature.
However, Republicans are still short of a supermajority, and Evers cannot enact any legislation that isn't sent his way by the GOP majority. So, will their relationship change after Evers' first four years were marked by scant conversations between the governor and legislative leaders?
According to Senate Majority Leader Devin LeMahieu, there's nowhere to go but up. In an interview, LeMahieu said during his first session as majority leader, he never had an in-person policy discussion with Evers.
LeMahieu said the two talked on the phone about a COVID-19 response package in January 2021. 
"I've never sat in a room with Governor Evers," LeMahieu said when asked when the last in-person policy discussions occurred.
Since then, the Oostburg Republican said the two spoke occasionally by phone, but those conversations were about Evers' appointees being confirmed by the Senate, and not about finding broader areas for potential compromise.
"When people say, 'Are you gonna work with the governor, are you gonna try to find compromise,' how can you begin that process if you're not sitting down with him, having weekly or monthly meetings trying to discuss the differences in our positions and our priorities," LeMahieu said.
When asked if he'd be willing to take the first step toward an in-person meeting, LeMahieu indicated he would.
"That's a great question," LeMahieu said. "I will."
In a statement, Britt Cudaback, a spokesperson for Evers, said the two collaborated on some issues in the previous session, and would be open to future conversations.
"Despite their Republican colleagues at times obstructing their efforts, Gov. Evers has appreciated Majority Leader LeMahieu's willingness to work together on addressing the issues facing our state," the statement read.
Cudaback listed the coronavirus response package, as well as packages on dairy exports, and waiving property taxes fees due to economic hardship.
"Gov. Evers looks forward to continuing to work with Majority Leader LeMahieu in the next legislative session," Cudaback said.
The statement did not directly address when the two have last discussed policy in person, nor whether Evers would facilitate such a meeting. 
Surplus situation
The biggest item to address in the 2023-24 session is the state's next two-year budget. Those discussions will be defined by what happens to Wisconsin's projected $5 billion surplus.
Among the items Evers has indicated in the budget are a $2 billion package for public schools.
Like Vos, LeMahieu said Republicans would support more K-12 funding, if it came in a deal that gave conservatives expanded school choice vouchers.
As for Evers' proposed 10% income tax cut, LeMahieu said it needed to apply to more people. Evers' plan was limited to single filers making less than $100,000 per year and joint filers making less than $150,000.
"It needs to be across the board," LeMahieu said. "It can't just be the lower brackets. It needs to be moving toward a flat tax."
Abortion, elections, and marijuana
As for some of the key policy questions ahead of the next session, LeMahieu did not answer whether he would support a bill adding rape and incest exceptions to the state's abortion ban.
The 1849 law only includes exceptions for when the mother's life is at risk. Democratic Attorney General Josh Kaul, who was also re-elected Tuesday, is suing in an effort to strike down the ban.
Assembly Speaker Robin Vos has said he supports rape and incest exceptions.
"We'll have to look into it," LeMahieu said. "I believe all life is precious. We need to protect life from conception, but I'm here to represent the caucus and to try to make sure that we continue to be successful."
With abortion, and other issues, LeMahieu said it was hard to know where his 22-member caucus stood because it had five new members. LeMahieu echoed Vos' comments about election bills coming back up.
"I'm not sure if it makes any sense to put those series of bills on the governor's desk again," LeMahieu said.
The majority leader indicated he'd support "smaller" election bills, such as an effort to clarify the definition of a complete witness address for absentee ballots.
Evers also said he will take another shot at legalizing marijuana as part of his budget proposal. LeMahieu indicated there still wasn't enough support in the Senate.
"I don't think we still have the support yet in our caucus even for medical marijuana," he said. "But it's obviously a discussion we'll have as a caucus going forward."