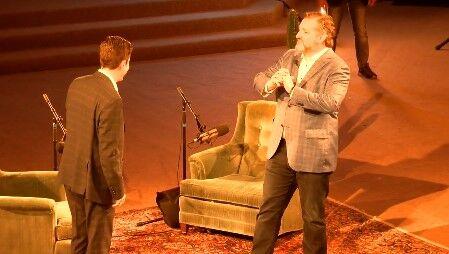 MADISON (WKOW) -- After officials at UW-Madison denied a mask exemption for an event hosted by Texas senator Ted Cruz, Cruz and event organizers say they were forced to make a sudden change to the event's venue. 
Cruz's appearance in Madison kicks off a nationwide tour of live podcast recordings for his podcast "Verdict" with Michael Knowles. It was originally supposed to be held at UW-Madison, but was changed last-minute to the Wisconsin Masonic Center because Cruz's request to not wear a mask on stage was denied by the university. 
In an email, Provost and Vice Chancellor for Academic Affairs John Karl Scholz denied the request saying the mask exemption was only for "artistic performers."
"I respectfully am turning down this requested waiver for speakers whose voices can be amplified for the audience via microphones," Scholz said. "We recognize that this creates some inconvenience, but it is consistent with the approach we've taken for our instructors and other public events, such as convocation, this semester."
Cruz and organizers say the policy enforcement was because the university didn't want conservative speakers on campus, but university officials paint a different picture. 
Kara Zupkus is with the conservative group, the Young America's Foundation, which organized the event.
"It was definitely social distanced, so that definitely wasn't an issue," Zupkus said. "So it was definitely hypocritical on the university to deny them that exemption under the arts requirement."
Cruz echoed her concerns during the live taping. 
"There have been multiple speakers on campus that haven't worn a mask," Cruz said. "If you're actually speaking to a crowd it doesn't work to wear a mask."
Cruz supporter Allison Hetz agreed and said she was happy that the venue was changed. 
"I think the fact is that they agreed to come here, there was very little discussion ahead of time as far as I know and I think that they tried to derail it at the last minute and it's atrocious," Hetz said. 
Emails and letters obtained by 27 News show that communications between Young America's Foundation members and the university went back to September. 
In one email, event organizers agreed to university guidelines, although specific recommendations were not listed in the email. 
"Any team members from Young America's Foundation who will be on site for the Verdict event on Wednesday, October 13, 2021, will be sure to follow the University of Wisconsin's health protocols and guidelines," Young America's Foundation Vice President Patrick X. Coyle, Jr. said in an email to the university. 
University spokesperson John Lucas said event organizers were made well aware of the university's guidelines weeks ahead of time. 
"This was communicated multiple times, both verbally and in writing," Lucas said. "This is the same standard UW-Madison applies to all other indoor events, including university classes."
Cruz and Zupkus say they weren't aware of the policy and pointed to other speakers who were granted exemptions, but didn't list specific examples. 
"The YAF group requested an exemption and the request was declined," Lucas said. "Other groups have also had exemption requests declined."