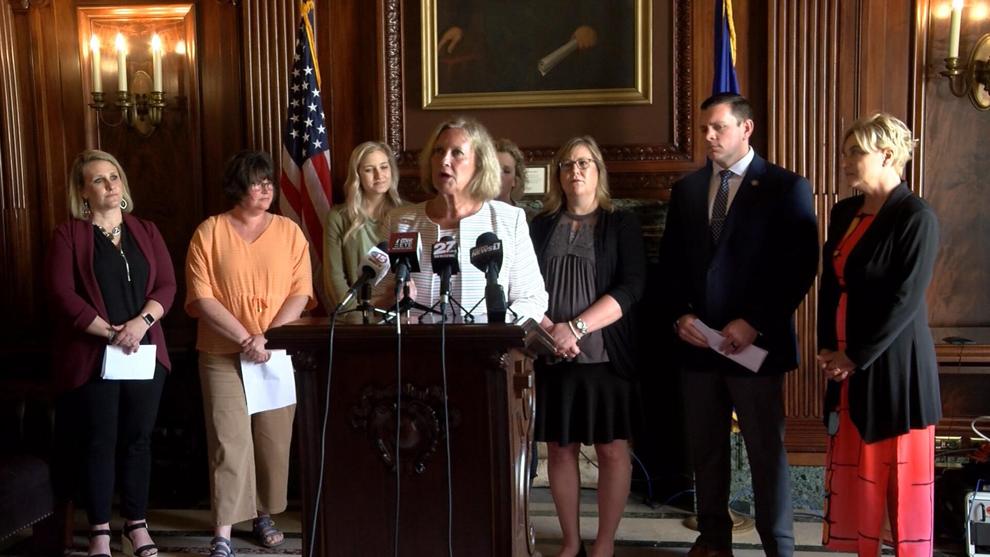 MADISON (WKOW) -- The state's largest nursing organization blasted Gov. Tony Evers Thursday over his decision to veto a bill that would have loosened regulations for a group of specialized nurses.
The Wisconsin Nurses Association held a press conference at the State Capitol on the heels of Peter Kallio resigning from his role as the chair of the Wisconsin Board of Nursing. Kallio cited the veto of Senate Bill 394 as a driving factor in his decision to step down.
The nursing association represents about 96,000 nurses statewide. The group's director, Gina Dennik-Champion, said the bill would affect about 8,000 Advanced Practice Registered Nurses.
A key change under the bill would allow advanced practice nurses to operate their own clinics without needing to enter a collaborative agreement with a physician. 
Supporters of the bill argue that finding or replacing a doctor with whom to partner can be very difficult for rural nurses operating direct pay clinics, providing a level of immediate health care access that wouldn't otherwise exist in small towns throughout the state.
The nurses maintained that at the advanced level, they have enough expertise to provide a number of basic health care measures and already seek outside guidance for issues they're not comfortable treating.
"I am very disappointed with the governor's veto as this does perpetuate physician groups maintaining control and power over my nursing practice," said Rebecca Gilbertson, who runs a direct pay clinic in Medford.
The bill divided the state's most influential medical organizations. The Nurses Association joined the AARP and the Wisconsin Association of Local Health Departments among about 20 groups registered in favor of the bill.
The Medical College of Wisconsin and Wisconsin Medical Society were among those opposing the idea of removing the requirement of a doctor's involvement. 
When reached for comment, a spokeswoman for the governor referred 27 News to the veto message Evers signed in April.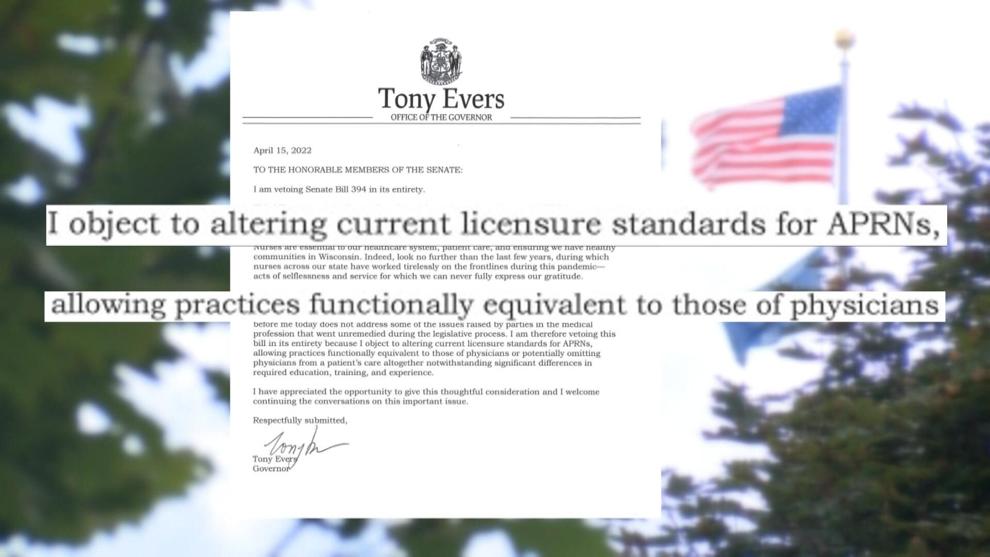 "I object to altering current licensure standards for APRNs," Evers wrote in the veto note. "Allowing practices functionally equivalent to those of physicians."
The nursing association and Sen. Patrick Testin (R-Stevens Point) said Thursday that they believed the bill struck a fair compromise by keeping the doctor collaboration requirement for advanced practice nurses with less than two years of experience.
"Organized medicine does not want us here in Wisconsin," Dennik-Champion said. "They do not want us to be able to practice and take care of patients independently, and I think that's a very sad state of affairs for Wisconsin."