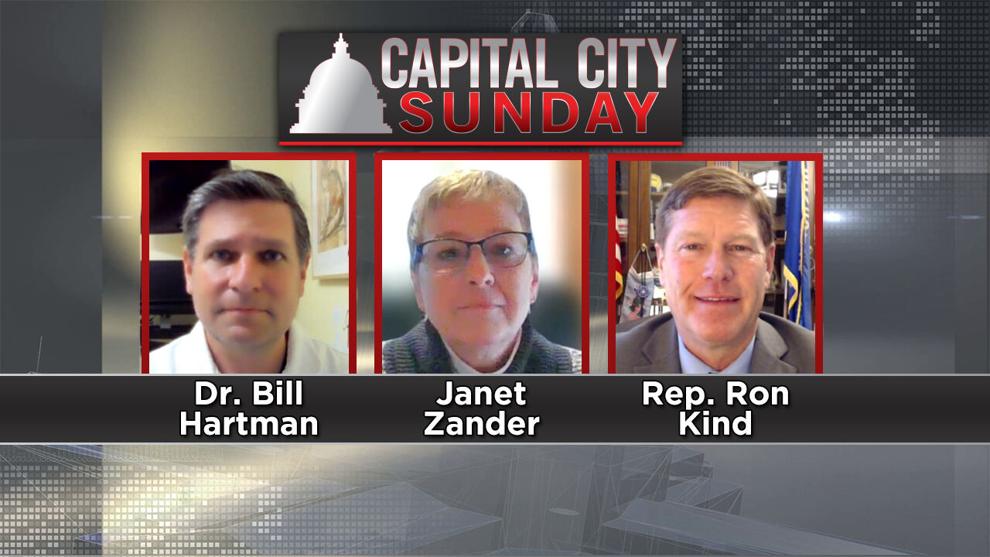 MADISON (WKOW) -- As COVID-19 hospitalizations surge in Wisconsin, health providers warn of two possible shortages: beds and staffing at hospitals.
According to the Wisconsin Hospital Association, there are more than 1,200 people hospitalized with COVID-19 statewide. It is the first time Wisconsin has topped 1,200 COVID-19 hospitalizations last December.
In the four regions that make up northern Wisconsin on the hospital association's dashboard, there were a total of two ICU beds immediately available as of Friday.
"The curve actually looks very similar to what we saw last November when we had the beginning of a pretty deep surge of patients coming into the hospitals with COVID-19," said Dr. Bill Hartman, a UW Health anesthesiologist.
Hartman said the biggest difference from last year, however, was the departure of many doctors and nurses who've experienced burnout and left medicine after nearly two years of witnessing death and feeling too many Americans still refuse to take their calls for precaution and vaccination seriously.
"It's something we really have to consider in terms of overwhelming the health system and the people in the health system," Hartman said. "It's one of reasons that getting vaccinated and getting boosted on top of the vaccination is so important."
Hartman was a lead investigator of UW's pediatric trial for the Moderna vaccine. He said while kids between five and 11 years old are less likely to develop severe COVID-19 infections, the 28 million American children in that group can still be hosts that allow the virus to spread and possibly spawn more variants.
"Getting them vaccinated is one of the keys to getting us closer to a point where we can put this virus behind us," Hartman said.
Friday, the Food and Drug Administration amended its emergency use authorization for both the Pfizer and Moderna vaccines, opening them up to everyone 18 years and older.
Hartman said he was convinced by two recent studies in particular that the booster shot is very effective and worthwhile for all adults.
"We didn't have very good data, just even a couple weeks ago," Hartman said. "But now we've got compelling data out of Israel plus a randomized control trial by Pfizer themselves."
'Misguided or misdirected'
How Wisconsin allows seniors in long-term care facilities to vote has become a central part of the partisan debate on election policy moving into the 2022 election cycle.
Assembly Speaker Robin Vos said last week he agreed five of the six state elections commissioners should "probably" face criminal charges over their guidance waiving the requirement that special voting deputies visit nursing homes last fall to help residents vote.
Janet Zander, the Advocacy and Public Policy Coordinator for the Greater Wisconsin Agency on Aging Resources, said she believed lawmakers should be more focused on ensuring elderly people in long-term care facilities have access to ballots - and assistance filling them out - in a pandemic.
"I believe the concern [of illegal conduct by WEC] is misguided or misdirected," Zander said. "I think the real opportunity here is to focus on how do we take a very vulnerable population and ensure that their right to vote is still accessible."
Some critics of the 2020 guidance said not only was it against state law, it also could've been avoided by having voting deputies make virtual visits to nursing homes. Zander said given the technology available at many nursing homes, it's not a realistic solution.
"Not very feasible at all," she said. "There are facilities that don't have really good broadband access or WiFi, there are also many challenges in helping people utilize the devices as well as challenges that happen in communication for people with any kind of hearing or vision deficits."
Zander said she supported moving forward with nursing home staff helping residents with their ballots as long as they're properly trained on election protocol.
"We need to make sure that our nursing home staff, who are required by federal law to support voters, are well-trained to do so," Zander said.
House Dems Pass 'Build Back Better' Bill
Democrats in Congress took another step Friday toward passing another key piece of legislation in President Joe Biden's agenda. On a party line vote, House Democrats passed the $1.75 trillion social spending bill.
The House bill includes funding for universal pre-school, covered Medicare funding for hearing, allows the senior health care program to negotiate prescription drug costs, provides four weeks of paid family leave, and funds a series of climate programs.
"This is what we need in order to lay the groundwork for long-term, sustainable economic growth to help deal with the supply chain problems that we've had and the price pressures that are coming from that that people are experiencing," said Rep. Ron Kind (D-WI).
The longtime La Crosse congressman said he was not worried committing to that much spending - President Biden earlier in the week signed the $1.2 trillion infrastructure bill - risked worsening inflation that is at the highest rate the U.S. has seen in 30 years.
"It's completely paid for so it doesn't add a nickel to the budget deficit and that's the way business should be conducted around here," Kind said.
The nonpartisan Congressional Budget Office's score does not align with Kind's claim the package is paid for. It estimates the bill will add $376 billion to the deficit through 2031.
The CBO noted the deficits could be trimmed through additional funding for tax enforcement but it's unclear whether Democrats would be able to pass such a provision in both chambers.
The social spending bill already faces an uncertain future in the Senate has moderate senators Joe Manchin and Kyrsten Sinema have had reservations about the level of spending in the 'Build Back Better' bill.
Critics have questioned whether the senators were holding out because some of their largest donors in the energy and prescription drug lobbies, respectively, might be swaying their opposition to parts of the bill.
"I sure hope members of Congress aren't making decisions based on where their contributions are coming from," Kind said. "That's not the way business should be conducted."
Kind is retiring from Congress at the end of his term, which could spell trouble for Democrats as his western Wisconsin district has turned progressively more conservative.
Kind said he believed the Democratic candidate succeeding him would have a good shot at winning depending on the final redistricting map adopted by the courts; the state supreme court is currently in line to settle the matter in Wisconsin after Gov. Tony Evers vetoed the map approved by legislative Republicans.
"One of the banes of our democracy right now are these gerrymandered districts," Kind said. "The more competitive you can make these districts, I think you're gonna find more bipartisanship driving from that."