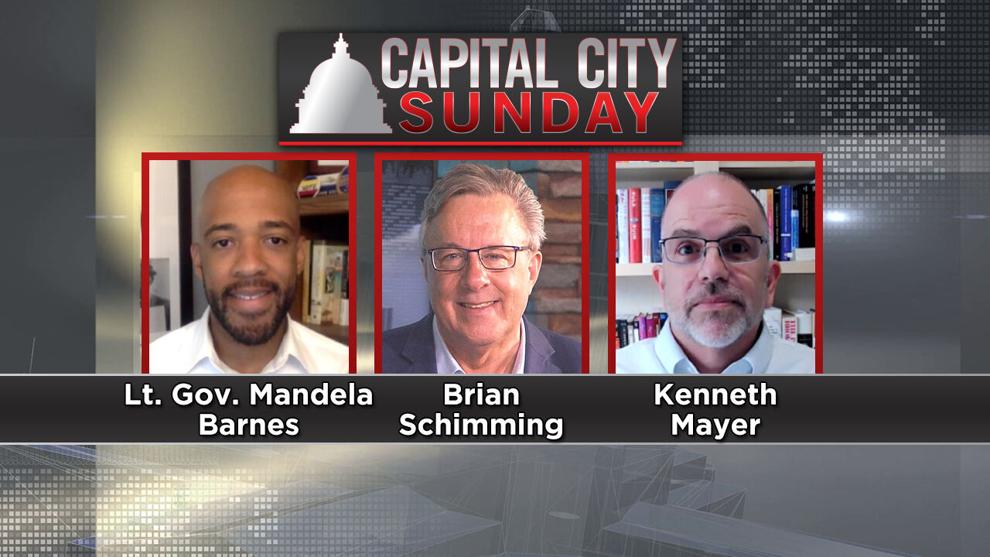 MADISON (WKOW) -- If it wasn't made clear enough earlier in the week, it became all but official Friday: Lt. Gov. Mandela Barnes will be the Democrat who challenges Sen. Ron Johnson in November. 
State Treasurer Sarah Godlewski ended her campaign Friday morning. Making her announcement with Barnes at her side, she became the third candidate in the Democratic primary to bow out this week and subsequently endorse Barnes.
Outagamie County Executive Tom Nelson dropped out Monday before Milwaukee Bucks executive Alex Lasry followed suit Wednesday.
Barnes said he didn't expect to see the field clear so quickly, so close to the August 9 primary election.
"I was surprised," Barnes said. "There's no way you could've predicted the past week would've played out the way that it did. But again, these are people who fought hard. They have taken the fight directly to Ron Johnson."
Republican sources, both on and off camera, have said Barnes is the candidate they hoped would advance to the general election. They believe they can portray him as too far to the left for most Wisconsin voters.
Paul Farrow, chairman of the Republican Party of Wisconsin, said Barnes in Washington would be a rubber stamp for President Joe Biden's agenda.
"When you look at the track record that Mandela's bringing in, as far as I'm concerned, he's jumping from one losing leader in Governor Evers to another one," Farrow said. "Joe Biden's right now approval rating is about 39 percent."
If Democrats can swim upstream and gain seats in the Senate during an election cycle favorable to Republicans, it will allow them to pass parts of the Biden agenda that are more popular, such as higher taxes on the wealthy to fund more social programs like child care credits and expanded health care benefits.
To take Johnson's seat, however, Barnes will have to weather attacks over past remarks he's made about the nation's founding. Last fall at a candidate forum, he said, "The United States is the most wealthy, the most powerful nation on earth, and it's because of forced labor on stolen land."
"The only way that we overcome the challenges that we currently face is to acknowledge how we overcame the challenges of our past," Barnes said when asked about those comments.
Republicans, however, have made clear they will hammer away at those comments, as well as those critical of police in Kenosha following the 2020 shooting of Jacob Blake.
"No amount of gaslighting or flip-flopping will make Mandela Barnes appear like a viable candidate to Wisconsin voters this fall," Republican National Committee Spokesperson Rachel Reisner said in a statement Friday. "By making Barnes the face of their race days before the August primary, Wisconsin Democrats have set off the catalyst ensuring victory for Senator Ron Johnson." 
Barnes countered the continued attacks were a meant to take attention away from Johnson's admitted involvement in an effort to pass a fake slate of presidential electors to former Vice President Mike Pence on January 6.
Johnson told a conservative talk radio host last month he'd put a lawyer for former President Donald Trump in contact with his chief of staff. Johnson said the lawyer, Jim Troupis, indicated he wanted to pass along paperwork related to the fake electors.
"[The attacks are] a sad attempt to try to distract from the fact that Ron Johnson literally tried to overthrow our democracy," Barnes said. "That point cannot be lost on people."
The Senate general election figures to draw tens of millions of dollars from all over the country. The Cook Political Report rates the contest as a "toss up," one of five Senate races currently placed in that category. 35 Senate seats are up for election this year. 
Taking on the economy
Republicans have also seized on the GDP having shrank for two straight quarters. While that's long been a measuring stick for when the economy is in a recession, economists have also noted there are a lot of unusual circumstances happening at the moment: unemployment rates are now and Americans are spending lots of money, but that's only further straining the supply chain as demand cannot keep up.
"I'll tell you, we have seen unprecedented growth for a long time right now," Barnes said.
When asked to specify what, exactly, he meant by growth, Barnes said he was referring to jobs and energy costs.
"Growth is what leads to inflation," Barnes said. "The fact that we've had more job growth, the fact that our unemployment rate is so low. The fact that- the unfortunate reality that oil and gas companies are having record-profit years while gas prices continue to rise across the country. This is a real issue that is impacting Americans."
GOP heavyweights weigh in on governor's race
The race for governor figured to get plenty of national attention this fall, but that's already happening as the Republican primary enters its final week.
Former President Donald Trump announced plans to hold a rally in Waukesha Friday for Tim Michels, whose family owns the state's biggest construction company. Former Vice President Mike Pence and Sen. Ted Cruz (R-TX), who beat Trump in the 2016 GOP presidential primary, have since endorsed former lieutenant governor Rebecca Kleefisch.
Brian Schimming, a longtime Republican strategist who's worked to recruit GOP candidates, said he projects the race as still being close. He said that means the endorsements, and the Trump rally, could make a meaningful impact on any remaining undecided voters.
"Sometimes, [a big national proxy appearance] just kind of confirms what everybody thinks already," Schimming said. "Other times, it's good at bringing that final one, two, or three percent over. And if this is a race between two, three, four, five points, could be critical."
The Michels camp has previously floated its internal polling numbers showing his lead over Kleefisch at nine percentage points.
Schimming said he believed that advantaged had narrowed, as evidenced by a Florida-based dark money group starting to run negative ads on Kleefisch and the Club for Growth following suit.
"When you see late money come in from groups," Schimming said. "Where you really can't trace the money or it's from out of state, or even from in-state, but you still can't trace the money, generally that means it's a close race."
Election security brought into focus
On Monday, the Dane County Election Security Review released its findings after being tasked with examining the state of the county's election infrastructure.
The most notable conclusion was Dane County and the city of Madison had badly outdated physical security systems.
UW-Madison Political Science Professor Kenneth Mayer chaired the committee. He said the changes had become much more essential in light of threats clerks across the country have faced after the 2020 election.
"These are new threats," Mayer said. "I mean, there have always been claims, false claims about problems with election structures and false claims of fraud, but they really, I think, took on a sharper dimension in 2020."
The report suggest the county and its municipalities explore investing in security tools like additional cameras, physical barriers, and panic alarms.
Mayer said the committee did not look into possible costs, but maintained much of the county's clerks office just aren't up to date on how to store voting equipment and protect clerks and their staff.
"The administrative structures - the offices, the buildings, the physical infrastructure is just not adequate to prevent, anticipate, and mitigate the effects of these kinds of potential threats," Mayer said.
Mayer added that while the Department of Homeland Security labeled election infrastructure as 'critical' in 2017, that largely applied to cybersecurity. He said it illustrated how physically protecting clerks, their staff, and their equipment just hasn't been top of mind at the federal or local levels.
He acknowledged there's a balance to strike: protecting election infrastructure while not making elections less transparent at a time when there's never been more widespread, albeit baseless, belief that widespread election fraud is occuring.
"Elections take place in a public setting. There's lots of public information," Mayer said. "The audits that occur after elections in Dane County all take place in public."
"The part that involved the counting of ballots, and the casting and tabulation of ballots, that's already publicly observable. And so, what we were recommending is that municipalities take a look at things they can do to protect the personnel."