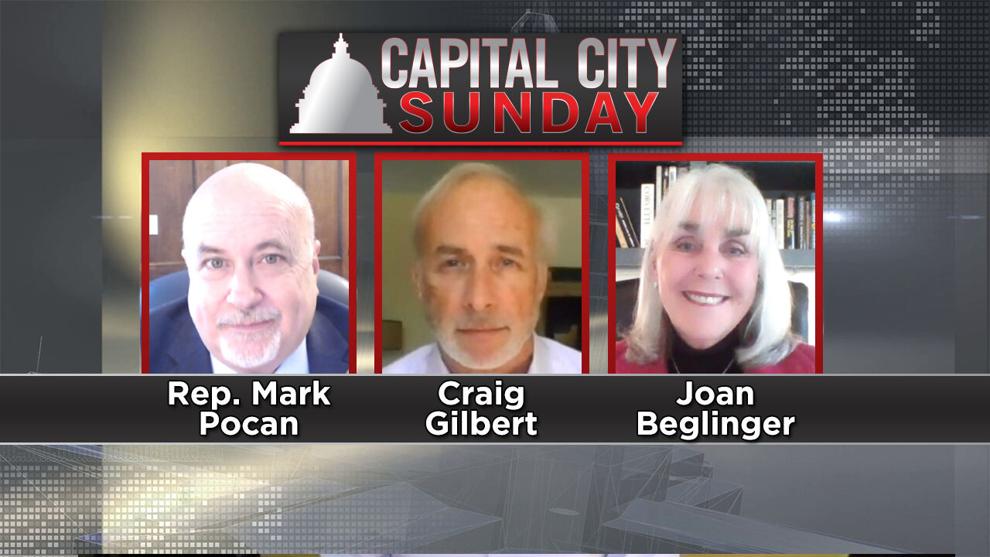 MADISON (WKOW) -- Rep. Mark Pocan, an official in congressional Democrats' progressive caucus, said he feels only one of the two moderate Democratic senators are acting in good faith in talks over the social spending bill central to President Joe Biden's agenda.
Senators Joe Manchin of West Virginia and Kyrsten Sinema of Arizona have balked at progressives' initial push to spend $3.5 trillion on a package including child care subsidies, extending the child tax credit, expanding Medicare to cover dental and vision, free community college, and a set of climate programs.
Manchin and Sinema have indicated they're not comfortable spending that much and Pocan confirmed the price tag on the bill will likely be a little more than half of what progressives sought.
"It looks like it's probably going to be more in the $2 trillion range," Pocan said. "Still, between that and the American Rescue Plan that we passed earlier this year, it's probably the most any congress has done since FDR to help the American people."
While Pocan said he was optimistic about the bill would pass before Thanksgiving, placing its odds at 80 to 85 percent, he said Manchin was much more active in trying to find common ground with other Democrats.
"I think anyone who isn't as active as Senator Manchin right now might get left out in the dust," Pocan said.
Manchin and Republicans have said they're worried spending an additional $2 trillion on top of the $1.2 trillion bipartisan infrastructure bill risks overheating the economy at a time when inflation has already led to food and rent prices increasing. In Wisconsin, heating bills have been forecast to increase as well.
Pocan referred to a report this month from Moody's that it was still confident in its prediction of "growth in consumer prices to moderate next year."
"They think we're at the peak of the inflation right now," Pocan said. "They think it's going to be going back down very soon but this was gonna happen no matter what coming out of COVID."
Map Fest
Within a span of just a few hours Wednesday, legislative Republicans released their proposed redistricting maps for the next decade after the group appointed by Democratic Gov. Tony Evers put out its second draft of maps.
Republicans had previously said they'd use the current maps they put in place ten years ago as a guide. Craig Gilbert, Washington Bureau Chief at the Milwaukee Journal Sentinel, said the maps indeed closely match the current version.
"Under the current maps, you've got 99 Assembly seats. About 61 or 62 of those 99 seats are more Republican in their makeup than the state as a whole," Gilbert said. "So that's sort of liked a baked-in advantage of about 25 seats."
The Princeton Gerrymandering project gave the maps an F grade in terms of partisan fairness.
Both Gilbert and Rob Yablon, an election law professor at UW-Madison, said while the state's political geography gives Republicans an edge since progressives largely cluster in Milwaukee and Madison, that alone does not explain Republicans currently have 61-32 advantage in the Assembly following the 2020 elections that saw Wisconsin elect a Democratic president.
"It goes well beyond whatever modest natural advantage Republicans might have based on geography and it exaggerates and amplifies that advantage," Yablon said.
One version of the maps released by the People's Maps Commission give Republicans a 56-43 seat advantage in the Assembly using the results of the 2018 election that put Evers in the east wing. 
The first version of maps were criticized for violating the Voting Rights Act by breaking up Black and Hispanic districts. The second draft makes an effort to keep them together although it's still not clear if this version would be in compliance.
"Some people oversimplify the Voting Rights Act and just think of it as a statute that requires you to create majority-minority districts where you can and that's not what the statute requires," Yablon said. "Instead, what the statute requires is that minority groups who are large and politically cohesive have fair opportunities to elect their preferred representatives."
Gilbert said that's the rub for Democrats: they can possibly gain more seats by breaking up majority-minority communities into districts that include a densely-populated tip of urban communities and reach out into more sparse rural areas. However, that risks decreasing the odds of having more candidates of color get elected.
"This is an interesting case where, if you look at African-American representation, most African-American voters are Democrats and it actually produces a better result for Democrats to break up that vote a little," Gilbert said. "That also makes it hard, or could make it harder, to elect, to have minority representation in those seats."
Hospital official turned independent candidate
Joan Beglinger describes herself as a competent alternative in the race for governor. To demonstrate said competence, Beglinger points to her nearly 30 years of experience working in hospital administration, including time as the Vice President for Patient Care at St. Mary's Hospital in Madison.
Yet Beglinger lists COVID-19 restrictions as one of the four primary "threats" to Wisconsin, along with "election integrity," "the lie of systemic racism," and "a dishonest media."
Her views on addressing the pandemic and the toll it's taken on the state run counter to what we've heard from the vast majority of public health officials and epidemiologists. Beglinger claims the raw case count shared by the Department of Health Services is misleading.
"When we count cases, it is very important that people understand cases are not people who are sick," she said. "Cases are people who test positive for COVID and many of those people are not sick at all."
Doctors and epidemiologists have long noted that while the majority of people who contract COVID-19, especially those who are young and healthy, will not experience severe symptoms, one of the most serious risks of continued spread is the creation of new variants that might be more contagious or resistant to vaccines.
Beglinger also describes the COVID-19 vaccines as "new" technology, even though research into mRNA technology, which is used for the Pfizer and Moderna vaccines, has been ongoing since the 1970s.
"This is the first time it is being used in a human application and, don't get me wrong - I'm not against it and I have nothing bad to say about it," Beglinger said. "But the facts about it are we have less than one year experience with the vaccine [being administered] and so no credible medical professional would tell you there isn't a lot we don't know and a lot we're going to learn."
A spokesperson for SSM Health, which owns St. Mary's Hospital, confirmed Beglinger was once an official there. She said the heath care system declined to comment on Beglinger's remarks about case tracking and the vaccine.
Beglinger's remarks about the vaccines' safety echoed misleading half-truths shared by Sen. Ron Johnson, who's made it a crusade to spotlight cases of people who say they had a severe adverse reaction to the vaccine.
Like Johnson, Beglinger cited the thousands of unverified claims of adverse effects into the federal VAERS reporting system. She acknowledged the vast majority of claims in the system are still under review so we don't know how many of those instances are attributable to the vaccine.
UW Health Chief Quality Officer Dr. Jeff Pothof said in response to Johnson this summer research has so far found that for every million people who got the vaccine, there's about twenty who had a serious reaction. Out of every one million people who get COVID-19, about 18,000 die.
While Beglinger's platform mirrors that of many prominent Republican lawmakers, she said she did not identify with either major political party.
"I believe both parties have disqualified themselves from our continued support," she said. "Because they are chasing money and power and rarely produce results any of us care about."