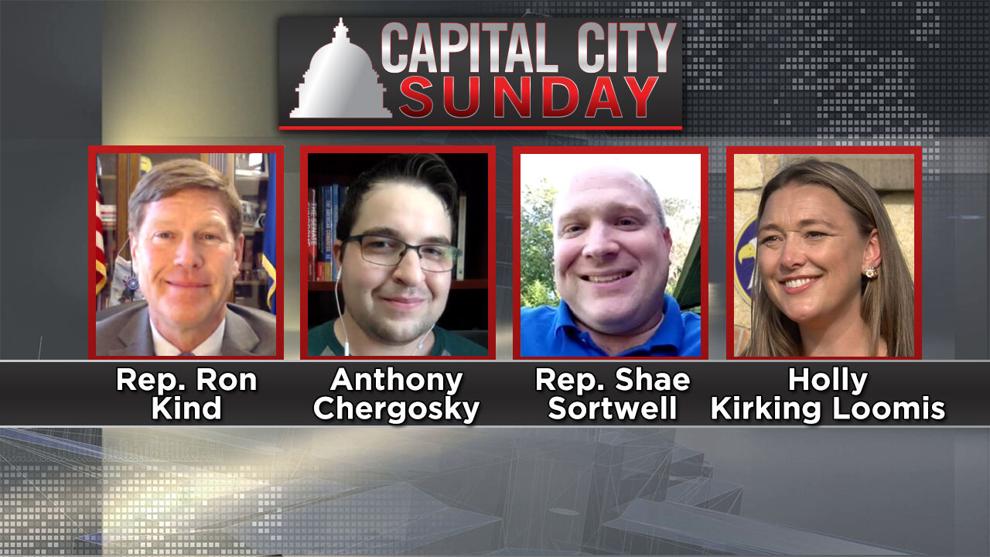 MADISON (WKOW) -- As negotiations among congressional Democrats continue into the weekend, the varying attitudes among moderate and progressive Democrats are on display within Wisconsin's delegation.
Moderate Democrats support taking up the $1.5 trillion infrastructure bill that already passed in the Senate with bipartisan support. That bill includes funding for road projects, schools, and broadband expansion. 
Progressives in the House have said they won't accept that because worry moderates would just stop there and not take up the larger package on social and climate initiatives they seek. That bill, which Democrats would have to pass through reconciliation - which allows them to pass it in the Senate with only 51 votes, including the tiebreaker of Vice President Kamala Harris - would including money for child care credits, universal pre-K, expanding Medicare to cover dental and vision, and a series of climate initiatives.
Progressives have said they want to spend as much as $3.5 trillion in that package, which has given Senate moderates pause. Rep. Mark Pocan (D-WI) from rural Dane County said Progressives' move to block a vote on the infrastructure bill Thursday had already paid off in negotiations Friday. 
"I think because some of us were willing to hold out to make sure we got both bills done, we now have serious movement," Pocan said. "And I feel more confident than ever that both of these bills will get done at some point soon."
Rep. Ron Kind, a moderate Democrat from La Crosse, said he believed progressives were needlessly putting off the passage of infrastructure, which he argued could be passed before digging into details on the larger reconciliation package.
"It's a weird dynamic, politically, where the far left and the far right have joined hands to prevent the infrastructure package from moving forward," Kind said. "And that's unfortunate because, right now, what would be helpful is more certainty for the U.S. economy."
Anthony Chergosky, a political science professor at UW-La Crosse, said stakes were extremely high for both progressives and moderates. Chergosky said with their slim majority in both houses ahead of a mid-term election that traditionally punishes a party with unified power, this was Democrats' best chance to pass legislation that could resonate next year with voters.
"It's really a situation where it was now or never for them to do something where this is their shot with unified government," Chergosky said. "And it may be their last shot for quite a while."
GOP tries to put positions in the cabinet
A pair of Republican lawmakers circulated a resolution Wednesday seeking to amend the state constitution so that three statewide offices currently elected by voters would instead be appointed by the governor.
Under the resolution drafted by Sen. Roger Roth (R-Appleton) and Rep. Shae Sortwell (R-Two Rivers), the offices of state superintendent, state treasurer, and secretary of state would become cabinet positions subject to the governor's appointment and confirmation by the senate.
Currently, all three positions are occupied by either Democrats or, in the case of State Superintendent Jill Underly, backed by liberals in a nonpartisan race.
In a memo seeking co-sponsors, Sortwell said the change would make the position more accountable to voters despite taking away their direct say in who occupies the office. Sortwell argued tying the positions to the governor's race would actually mean more voters had a say.
"You may say to yourself 'how is that possible? How is it accountable if it's an appointed position versus an elected position?'" Sortwell said. "But I challenge you - go out to any man or woman on the street and ask them who the state treasurer is. Ask them who the secretary of state [is]. Ask them even who the DPI superintendent is. The vast majority of them don't really know who those people are. They know who the governor is."
During the current legislative session, more than 100 of Democratic Gov. Tony Evers's appointees have yet to be confirmed. Senate Republicans confirmed 39 appointees on Tuesday, including several members of his cabinet.
Republicans previously tried eliminating the treasurer's office through a constitutional amendment, but that effort failed in April 2018 when voters chose to keep the position by a 61 to 39 percent majority. GOP lawmakers have succeeded in reducing the position's importance, for instance, taking away its oversight of the unclaimed property program.
In order to amend Wisconsin's constitution, lawmakers must pass a resolution seeking to do so in two consecutive legislative sessions. After that, the question is put to voters in a statewide referendum.
Democrats said the proposal was the continuation of a power grab that began shortly after Evers's election in 2018. In the weeks following the election, Republicans in control of the legislature held a lame duck session to scale back some of the governor's powers.
"It is not lost on anyone that each of these positions are held by candidates that were not supported by Republicans," said Rep. Sondy Pope (D-Mount Horeb) in a statement. "Their power-hungry greed seeks to move the goal posts so that they only need to win one election, and not four, to control all of Wisconsin's constitutional offices."
State Department offers few details from Fort McCoy
The mission involving thousands of Afghan evacuees at Wisconsin's only active military base is slowly transitioning from sheltering to resettling, according to a State Department official.
Holly Kirking Loomis, a deputy team lead for the State Department's efforts at Fort McCoy, did not directly answer how many Afghans evacuated to the base from Kabul had since been resettled in the U.S. She said the process varied as some evacuees who already had citizenship status or green cards were already sent to live with families or sponsors in the U.S. while others applying for Special Immigrant Visas or humanitarian parolee status needed to go through more screening.
"We're still in the early stage of making sure we've got the right place ready to receive guests," Kirking Loomis said. "And you can imagine, there's kind of a balance between moving people quite quickly but also making sure we, as the United States, are ready to receive them community by community."
Earlier this month, an Afghan evacuee and his wife said meal portions were woefully small at the base and he hadn't yet been able to change out of the clothes he wore upon arriving in the U.S. Kirking Loomis said officials had been adjusting to ensure meals were big enough and fit the diets of evacuees.
"At the very beginning, they were some retooling to be sure that people who arrived, literally with a backpack, had the clothing that they needed after coming through this long journey," she said. "To be sure that we had appropriate food served in the right quantities in the way that was most accessible to our guests."
Kirking Loomis acknowledged the arrests of earlier this month of two evacuees for crimes allegedly committed at the base. One man has been charged with committing a sex act with a minor while another man is charged with choking his wife.
Kirking Loomis said she's felt entirely safe during her five weeks at the base, saying the incidents were outliers compared to the everyday happenings a base now housing more than 12,000 evacuees. She said the charges being publicly announced and handled in traditional federal court proceedings demonstrated the feds were being open about what happens at the base.
"My message would be that the United States is a special place where we have a transparent judicial process," she said. "That means information on what happens in our judicial system is public."
As for Kirking Loomis personally, the Sparta native said she requested to be stationed at the base because she wanted to take part in an unprecedented resettlement effort that was happening just down the road from the town where she grew up.
"It's been an honor to come back to Fort McCoy and be part, not only or the response, but to receive, as a local person, guests who traveled halfway around the world under really difficult circumstances," she said.
Wisconsin is prepared to receive a total of 399 resettled evacuees once they clear screening. Kirking Loomis said those placed permanently in Wisconsin will come from all bases housing Afghans, not just Fort McCoy.