UPDATE (WKOW) — Police have arrested a 26-year-old man in connection with a bank robbery July 9 in Madison.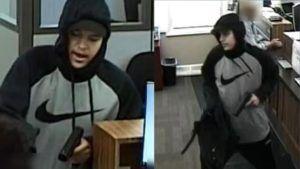 Stanley H. Griffin, II, 26, no permanent address, was arrested Aug. 13 and faces an armed robbery charge. Griffin currently is in the Dane County jail.
***********************
MADISON (WKOW) — Madison police released surveillance photos Friday of a man they say robbed a bank on Cottage Grove Road in Madison Tuesday.
The man entered the US Bank shortly after 10 a.m. Tuesday, displayed a weapon and demanded money.
The money was placed in a backpack and the robber was seen fleeing south from the bank on foot, according to a Madison police incident report.
The suspect in the photo is a male approximately 5'8″ – 5'10" with a "skinny" build, facial stubble and was wearing a black Nike hooded sweatshirt and black pants, according to police.