BELOIT TOWNSHIP (WKOW) — Police have located the driver who they say drove a car he was driving into a town of Beloit home Sunday, setting it ablaze and burning it to the ground.
Witnesses say a man ran off after the car hit the vacant home about 2:30 a.m., but vehicle registration information indicated the driver of the vehicle was 20-year-old Cameron Lee Flory of Beloit.
Flory was issued citations at 10:15 p.m. Sunday for hit and run, operating while revoked and operating without insurance. He was released with court dates.
——————————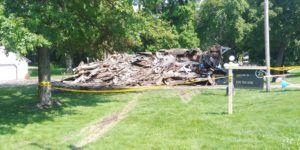 UPDATE (WKOW) — A vacant Beloit house burned to the ground after a car crashed into it early Sunday morning.
A portion of U.S. Highway 51 had to be shut down for hours in both directions as crews fought the fire.
Police are looking for the driver who ran away from the crash site.
But the loss of the historic home is what's on neighbors' minds.
"Real sadness and loss that that was kind of a historic place for Beloit, everybody knew the Inman Turkey House, Inman parkway," Debbie Simonds said."It's like a piece of Beloit is gone now."
Debbie and her father Phil Simonds have lived next to the house for more than 50 years.
The two had fond memories of the previous owners and time they spend there.
"Beautiful property, they had a cute little island that they could party on with a cute little cabin," Simonds said.
But now the home is rubble.
Firefighters say the fire got so out of hand they only had one choice.
"Because it was difficult to get to, we had to bring a backhoe in and tear part of the house down to be able to extinguish the fire," Deputy Chief Richard Tippelt, with the Town of Beloit Fire Department, said.
Firefighters also had to cycle through multiple times over the course of the 6 hour fight, because of the heat and humidity.
"Usually after one rotation through an air bottle, we'll bring them out and go through rehab for 15 minutes or for them to get their vitals checked," Tippelt said.
For Debbie, it was a surprise for her that someone could have driven through all the cones and stop lights.
"They couldn't have been thinking straight and they had to be going pretty fast to come off the hill and go down and into the house," Simonds said. "I mean it didn't bump it, it went into it."
---
UPDATE (WKOW) — According to Town of Beloit Fire Department, fire crews were able to quickly extinguished the car fire, finding the car unoccupied.
The Town of Beloit Fire Department also say that the home was for sale and vacant at the time of the fire.
Unfortunately, The Town of Beloit Fire Department determined that the home could not be saved and a back hoe was brought in to help tear apart the home so that the fire could be fully extinguished.
The Town of Beloit Police Department is still investigating the accident.
********
UPDATE (WKOW) — US 51 between East Azalea and East Hillside Avenue is open after a car crashed into a home, causing a fire.
According to WisDOT, the road was cleared around 9:30 a.m. Sunday morning.
********
TOWN OF BELOIT (WKOW) — Officials are working to clear the road after a house fire on S Riverside Dr. in the Town of Beloit.
Rock County dispatchers said a car crashed into the home, causing it to start on fire.
According to WisDOT, US 51 (S Riverside Dr.) is closed between East Azalea Terrace and East Hillside Avenue.
According to the Rock County Sheriff's office, the road is expected to be closed for several hours.
This is a developing story.