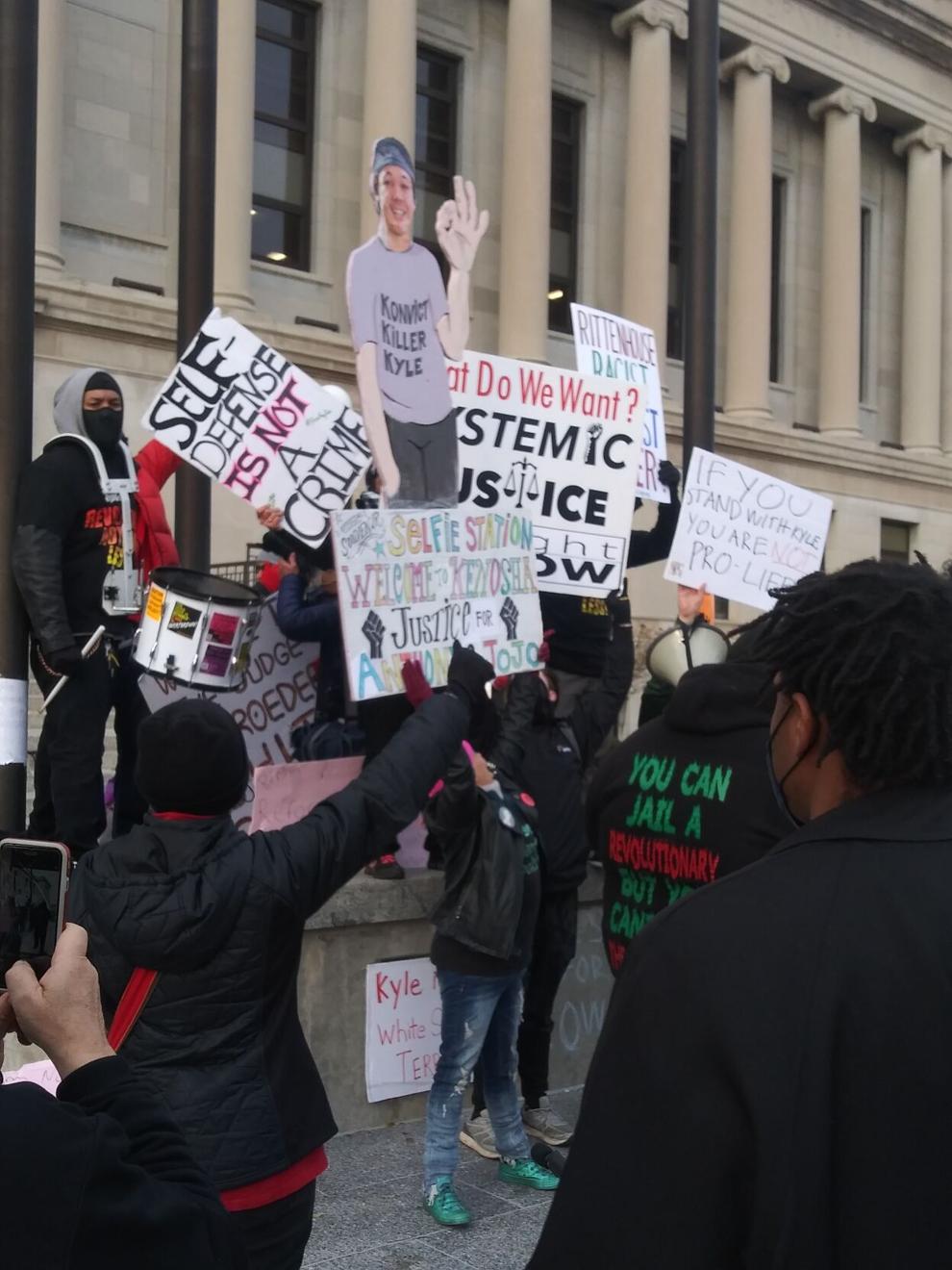 KENOSHA (WKOW) -- While the jury in the Kyle Rittenhouse trial finished its first day of deliberations without reaching a verdict Tuesday, a considerably larger group gathered to create a raucous, and at times tense, scene outside the courthouse.
For long stretches Monday, there were about a dozen or so demonstrators on the steps to the Kenosha County Courthouse. Tuesday, that number was often closer to 100 with both protesters calling for convictions and people supporting Rittenhouse.
Rittenhouse is on trial for a series of shootings that killed Joseph Rosenbaum and Anthony Huber and wounded Gaige Grosskreutz. Rittenhouse maintains he acted in self-defense while facing charges that range between first-degree intentional homicide and first-degree recklessly endangering safety.
The August 2020 shootings happened amid violent unrest that followed protests of the Kenosha police shooting of Jacob Blake.
The demonstrators calling for the jury to convict Rittenhouse outnumbered the Rittenhouse supporters but both sides were visible throughout the afternoon and early evening Tuesday.
The two groups highlighted the polarized nature of the trial: many view Rittenhouse as a reckless vigilante-turned-murderer while others see him a helper who tried to protect small businesses. 
"I wanted to stand up for what is self-defense and what is right because it is a clear cut self-defense case of somebody who is being attacked," said Kenosha resident Teraya Tomko.
Another Kenosha resident, who declined to share his name out of concerns of possible retaliation, said he viewed Rittenhouse as a killer who had no business coming to the city that night.
"Everyone here is human. We are all human and it is disgusting that people can say the horrible things that justify what that kid did," he said. "I have no empathy for him, I don't care about his crocodile tears."
Sharing the same space, the two sides came together on a couple of occasions. In one case, a Rittenhouse supporter tried to hold up her sign in a group displaying anti-Rittenhouse messages.
The anti-Rittenhouse group surrounded the woman. Ironically, she and another woman began to argue about who would be able to claim self-defense if the confrontation turned violent. Eventually, the group broke apart but not before police were dispatched to the disturbance.
'I don't see a happy ending here'
Not everyone at the courthouse was firmly in one camp or the other. Israel Webb of Milwaukee said it was the first time he ever attended a protest.
Webb said he believed the entire incident was symbolic of a government in need of reform. On multiple occasions, a reporter witnessed Webb stepping into confrontations and trying to diffuse the situation.
"If this escalates, the National Guard gets called in, people could lose their lives or a riot can start," Webb said. "And we're back to square one."
Michael Bell, whose son was killed by Kenosha Police in 2004, was also outside the courthouse Tuesday. Bell displayed a two-page ad that will run in The New York Times Wednesday drawing attention to his son's case.
Bell reached a $1.75 million settlement with the city in 2010 - money he said continues to fund a campaign to bring awareness to his call for the Wisconsin Department of Justice to reopen the case.
Bell said he had a bad feeling about what could happen once the jury delivers a verdict.
"I don't see a happy ending here," he said. "I just don't see a happy ending because there's just- I saw almost a fight on a street between someone supporting Rittenhouse and someone supporting Jacob Blake so I don't see it being good."