MADISON (WKOW) -- Decades after the Voting Rights Act of 1965 was signed into law to end overt voter suppression, there's been some progress but many still face barriers in Wisconsin when trying to cast a ballot.
In the 55 years since the Voting Rights Act, we've seen voter registration expanded, more polling locations and options to vote by mail. But in 2010, voting advocacy groups and UW-Madison Political Science Professor Barry Burden said progress came to a halt.
Republicans started gaining control of state legislatures and eliminated early voting and same-day registration where it was possible to do so. Then in 2011, Republicans passed strict voter identification laws. Supporters believe the measures prevent fraud, even though Burden says fraud is extremely rare.
"Limited expectations existed but there's no evidence that voter fraud is having any widespread systematic ways or that the voter ID law would actually address it," said Burden.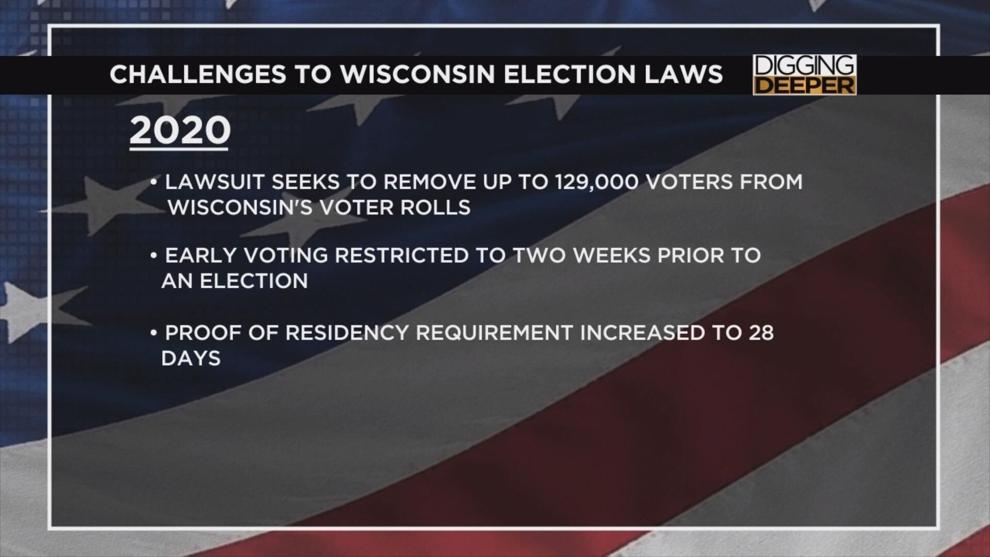 Nearly 10 years later, challenges and changes to our elections continue. So far this year, there's an effort by a conservative group aiming to remove up to 129,000 voters from the state's voter rolls, a panel of federal judges upheld a Republican law restricting early voting to two weeks before an election, and now, new voters must prove their place of residency for at least 28 days rather than 10.
These are all tactics Shauntay Nelson, Wisconsin Director of All Voting is Local, says disproportionately impact people of color.
"It can prove to be a little challenging because we have experiences where people of color are not necessarily up to date on current and changing laws, therefore, causing confusion," said Nelson.
Voter confusion is also at its peak during the pandemic. State election officials say many people struggle to upload their photo IDs to request an absentee ballot. In April, more than 23,000 ballots were rejected mainly because voters didn't fill them out correctly according to an APM Report analysis.
Minorities are some of the most impacted by this because they tend to have fewer resources to help them navigate the voting process, said Nelson.
"We have to find better ways to create access, not limiting access to the polls and the right to a ballot," she said. 
Nelson and other voting advocacy groups are now spending more money on voter education which Burden said is more important than ever especially during a pandemic. 
"Many people are shifting the ways in how they vote and it really is essential to get information out to voters," said Burden.
Now the challenge for election officials is making sure upcoming elections are safe, secure and accessible but more changes could be coming right before November.
There are several voting laws that Democrats don't believe should apply as we continue to fight a global pandemic. Liberal advocacy groups are asking the federal court to extend Wisconsin's online voter registration deadline and when absentee ballots can be counted. An attempt to do both of these failed rights before April's election.
Currently, voters have to request an absentee ballot five days before an election and they have to be returned by 8 p.m. on Election Day to count.
Only time will tell to see what other challenges come before the presidential election but voting advocacy groups hope education will outweigh efforts to suppress the vote.
"If all of those barriers were eliminated it would make turnout in any election much better," said Nelson.