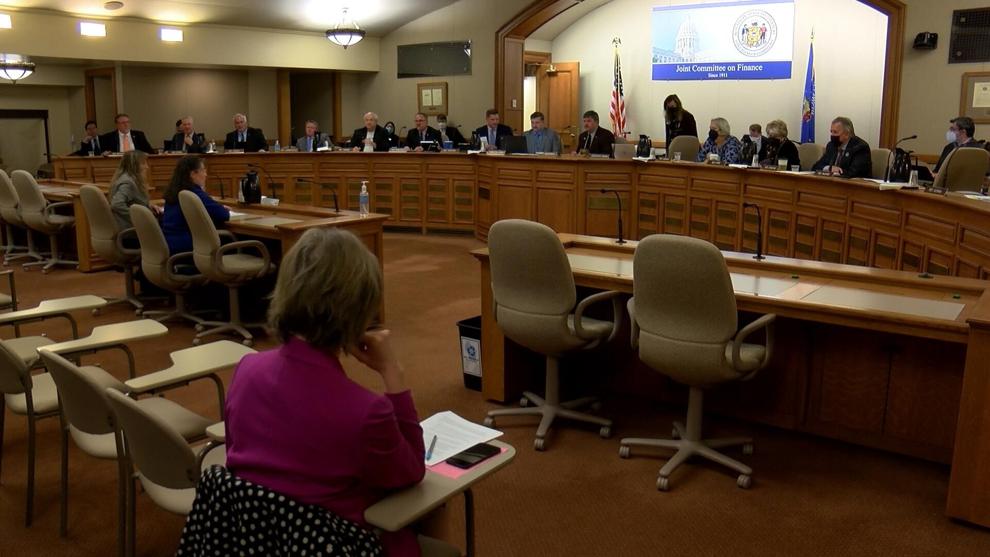 MADISON (WKOW) -- More than a dozen GOP election-related measures received a public hearing Monday but Republican lawmaker believe party leaders cut her out of the process.
Rep. Janel Brandtjen (R-Menomonee Falls) last week accused Assembly Speaker Robin Vos (R-Rochester) of "kneecapping" the Assembly's committee on elections, of which she's the chair. 
While the bills have to do with setting election policy, Vos referred them to the state affairs committee, drawing Brandtjen's ire. Brandtjen spoke last week at a rally inside the Capitol where demonstrators demanded lawmakers decertify the 2020 election -- something the legislature's lawyers said would be illegal -- and shared conspiracy theories about the election.
"It is no secret that the Speaker of the Assembly, Robin Vos, and State Senator Kathy Bernier have been severely downplaying the significance of the voter fraud that the elections committee, the special counsel, and numerous independent groups have uncovered," Brandtjen said Wednesday in a statement.
Reviews by the Legislative Audit Bureau and conservative Wisconsin Institute for Law & Liberty found the Wisconsin Elections Commission issued guidance that ran afoul of state law because issues like drop boxes and nursing home voting should have been established as formal rules instead of written guidance. However, those reviews also both state there was no evidence of widespread fraud that would've changed the 2020 election's outcome.
Vos responded by saying the bills went to the state affairs committee because that would be the easiest way to hold the mandatory public hearing for the proposals before having them reach the Assembly floor for a vote on Thursday.
"There is no 'kneecapping' happening to Rep. Brandtjen's committee," Vos said last week in a statement. "The State Affairs Committee is our most versatile, flexible committee, handling a myriad of issues in a very timely matter."
Brandtjen's criticism of Vos mirrors the anger some Wisconsin conservatives displayed toward state GOP leadership over its refusal to back their push to "reclaim" the state's 2020 electoral votes. 
When Rep. Timothy Ramthun (R-Campbellsport) announced on February 12 he was running for governor on a platform of baseless claims of election fraud, supporters displayed more vitriol toward Vos than Democratic Gov. Tony Evers.
GOP bills headed for veto, part of the '22 messaging battle
The measures heard Monday dealt largely with the familiar themes of giving the GOP-controlled legislature more control over how Wisconsin runs elections, prohibiting clerks from accepting outside money, and setting new restrictions for voters seeking to cast absentee ballots.
Two proposed constitutional amendments would require voters to show photo ID regardless of circumstances and would establish a ban on outside donations for the purpose of election administration. Two consecutive legislatures would need to approve the resolutions in order to put the question before voters in a statewide referendum.
Democrats have argued the state should boost funding to clerks so they wouldn't feel compelled to apply for private grants.
"I mean, wouldn't it make more sense if, instead of having to depend on donations from outside, to actually fund our elections?" Rep. Christine Sinicki (D-Milwaukee) said in Monday's hearing.
Republicans have responded by questioning whether it's ethical for advocacy groups to give money to election administrators.
"Let's say the oil industry wanted to come in and sponsor [the Department of Transportation] or Hunter Nation wanted to sponsor game wardens," Rep. Robert Brooks (R-Saukville) said in a comparison.
GOP lawmakers have also pushed to have all outside grants pooled into the Wisconsin Elections Commission, which would then be forced to distribute the money evenly to all clerks on a per capita basis; Evers vetoed such a bill last year.
The Republican measures heard Monday also would add new restrictions to the absentee voting process, requiring voters to show photo ID when requesting a ballot and making it a crime for clerks to fill in missing information on a ballot application.
Evers is all but certain to veto each of the bills; in a rare move, he called a press conference to publicly veto a series of GOP election bills last year.