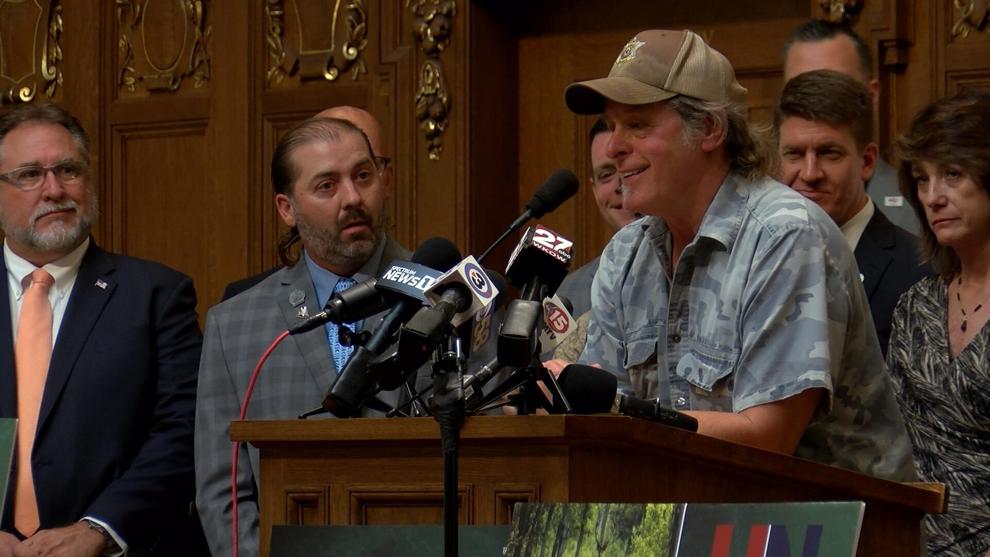 MADISON (WKOW) -- Conservative, outspoken rock and roller Ted Nugent joined Republican legislators to push a package of 13 bills Wednesday at the state Capitol. Among the bills were proposals allowing people to hunt sandhill cranes and carry concealed guns without a license.
Promoted under the banner of 'sporting freedom,' Nugent and the bills' authors said they were trying to keep hunting and fishing as accessible as possible for future generations.
"Hunting, fishing, and trapping is perfect," Nugent said. "And when they're overregulated, people quit."
Critics questioned why a package of sporting bills would revive a controversial effort to allow unlicensed concealed carry.
"Does that mean when they're walking down the street, they're hunting?" asked Sen. Jeff Smith (D-Brunswick). "When they're carrying, when they walk into a market with this carry, are they hunting?"
The bill's author, Sen. Mary Felzkowski (R-Tomahawk) said no longer requiring a license for people to carry concealed guns fit into a larger effort to remove burdens from sportsmen.
"Number one, it is a constitutional right, both at the state level and at the federal," Felzkowski said. "The second thing about that is we're talking about law-abiding citizens."
Both Nugent and lawmakers argued there should be no infringements on the right to carry firearms because it's enshrined in the Second Amendment.
"I was born with constitutional carry," Nugent said. "That it's controversial is an indictment and a manifestation of cultural deprivation that I never seen equaled in my 73 years."
Pushing for sandhill crane season
Felzkowski also authored the bill allowing people to hunt sandhill cranes. The bird was once on the state's endangered species list but is no longer listed. According to the Wisconsin Society for Ornithology, Wisconsin's sandhill crane populations was once whittled down to about 25 breeding pairs in the 1930s.
"We've done a great job in the state of Wisconsin of protecting that and bringing our numbers back where it's no longer on the endangered species list," Felzkowski said. "It's time now to manage that resource, just as we do with all our other waterfowl and birds."
Rep. Dave Considine (R-Baraboo) represents a district that includes the International Crane Foundation. Considine, a self-proclaimed gun owner, said the state should hold off on allowing any more animals to be hunted until more wildlife experts are able to weigh in.
"I'm waiting to hear what Green Fire and some other professionals who've been at DNR and are at DNR to tell us what they think," Considine said.
Both Felzkowski and Nugent said farmers were being tormented by the now-healthy bird population because the cranes would eat away at their fields, cutting into profits. Besides the management effort, Nugent said people should hunt the birds because of their flavor, describing them as "ribeyes in the sky."
Another bill in the package would require the Department of Natural Resources to eliminate three rules every time it passed a new rule. The series also includes proposals seeking to increase the number of pheasants hunted to 200,000; allow new hunters to meet the in-person field testing requirement by participating in a mentored hunt; and require the DNR to find ways to consolidate or eliminate hunting, fishing, and trapping licenses.
A controversial guest
Nugent's invitation drew criticism from Democratic lawmakers, who pointed to a 2002 interview with Salon in which Nugent said he and his dog "get a 'full predator spiritual erection' from pursuing 'bear, lions, coons, housecats, escaped chimps, small children, scared women, and everything else that can be chased and/or hunted.'"
Nugent also has shared false information about COVID-19, wrongly saying "nobody knows what's in" the COVID-19 vaccines when explaining why he wouldn't be vaccinated despite feeling like he "was dying" after contracting the disease last spring.