OREGON (WKOW) -- Parents in Oregon are concerned after the district announced it is planning to extend the school day for elementary students next year.
Administrators say the change is necessary to accommodate the ballooning student population and ensure everyone gets to school on time.
Amanda Payne is worried about what a proposal to lengthen the school day will do to her young children.
"I feel like there is so much pressure on my kindergartner as it is and I can't imagine adding 20 minutes to every one of her school days," Payne said.
Oregon Superintendent Brian Busler says the changes are needed because the district is adding a new elementary school next year.
That presents a new challenge: finding buses to get students of all ages to class, with the different sleep needs of older and younger students.
They believe starting the elementary school day earlier will allow buses to run more efficiently between the two age groups.
"Our initial plan so that we could get reaction from parents, community members and teachers was to identify a school day of seven hours and 20 minutes," Busler said. That proposal has already been changed somewhat.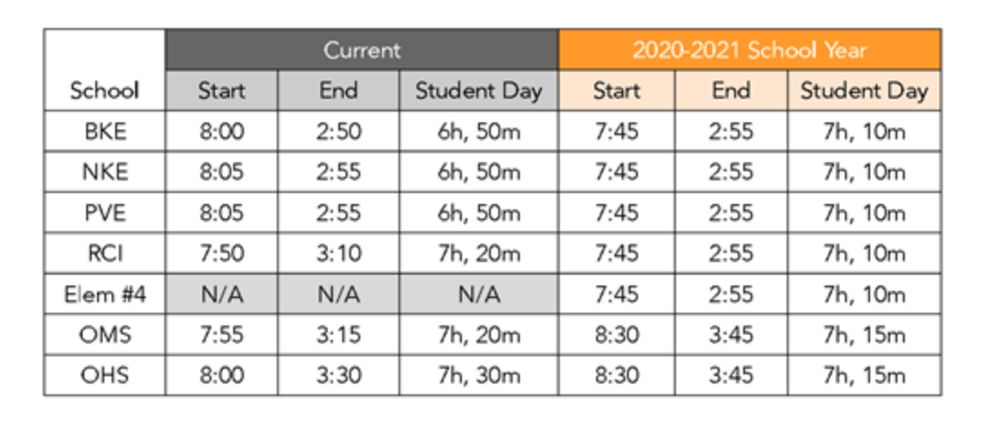 He also says they have gotten complaints that the Elementary School day feels hurried and rushed.
Martha Klug, a former teacher at Prairie View Elementary School, has two kids who would be affected by this change. She says in her seven years as a first grade teacher, she has never heard that concern.
She also says they're placing too much importance on the older students in the district.
"We want success for the high school and our kids some day will be at that level," Klug said. "That's important but not at the sacrifice of the elementary students."
She also says the plan will take away prep time from teachers.
"They're talking about adding that extra 20 minutes to the school day but somehow letting teachers have that as their prep time." Klug said. "It's very different before the kids arrive in the morning."
The school district says it's still taking in comments and feedback before taking a final decision.
Busler says if extra time is added to the school day, it will be added to recess and lunch time.
He also says there may need to be more changes to the schedule in the near future when they need to build a new middle school.
The district will be hosting another information session Saturday morning at the Rome Corners Intermediate school at 9 a.m.
Klug, Payne and other parents are urging the district to reconsider, and pushing a petition to do so.
If you would like to sign on, you can find it here.