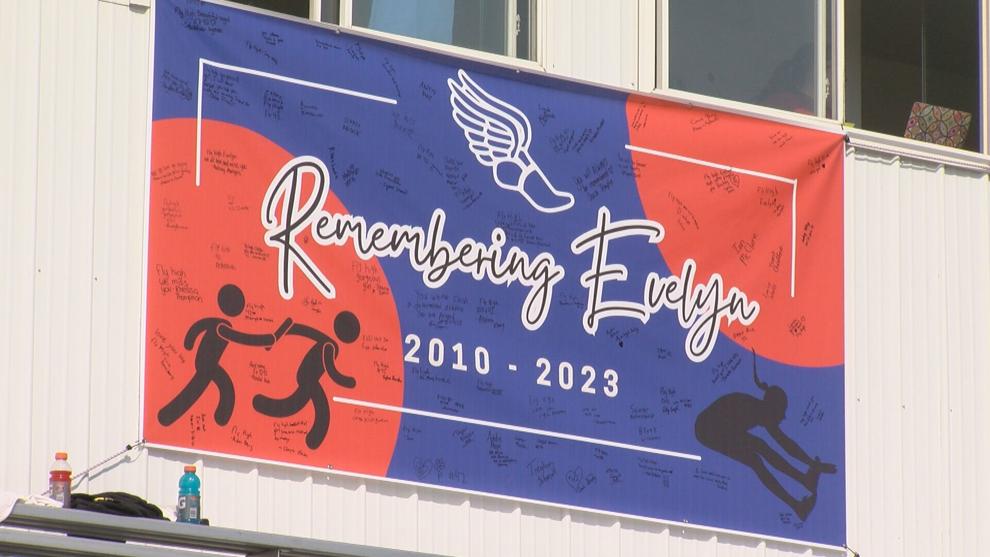 REEDSBURG(WKOW) — Right now, a banner honoring a Reedsburg student gone too soon hangs in the bleachers of Reedsburg High School's track.
13-year-old Evelyn Gurney was a runner on the track team before her life was tragically cut short by a driver who failed to stop for her school bus, and then hit her.
On Tuesday, the track team honored Gurney at their meet with that banner, along with many other special tributes.
Runners from Reedsburg wore blue shirts with the letters "EV" and angel wings on them, while runners from other schools wore blue arm bands.
A bake sale was also held under the bleachers to raise money for the family.
A race was run in Gurney's honor following an emotional moment of silence.
Jason Young coached Gurney in track. He said that while she was a talented athlete, she was an even better person.
"She's just a super kid, worked really, really hard. Everything that she got, you know, she earned," Young said. "She exemplifies everything positive that we would want out of a student."
Young hopes the track meet Tuesday helps bring everyone some closure, including Gurney's family.
"The parents of Evelyn were out here tonight. It was great to see them. I think this helps them maybe give a little bit of closure seeing, you know, our 90 track athletes and Mount Horeb line the track," Young said.
27 News reached out to the Gurneys who attended the meet.
They said in a statement: "We are absolutely devastated by the loss of our beautiful girl. But, hope for healing through the love of our amazing community. Thank you to everyone for the love and support."
Organizers announced more than $600 was raised for the Gurney family at the track meet.
"I hope that her family feels that we are truly doing this for Evelyn and her  family and it gives them a little bit of closure to see everybody that cares so much, both on our team and as I said in the community," Young said.