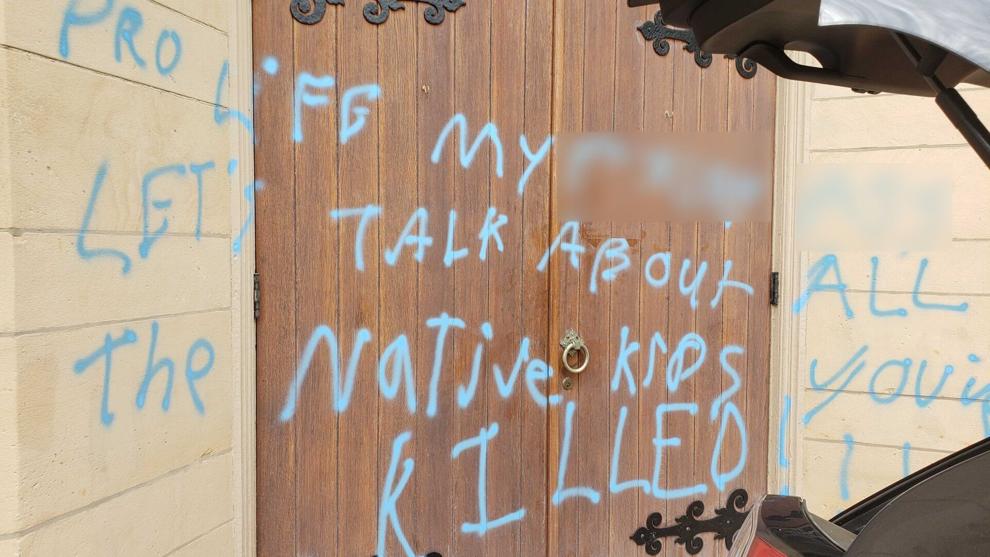 MADISON (WKOW) -- Leaders of the Madison church vandalized on Saturday evening are responding, and some demonstrators say it's not enough. 
The vandalism comes just over a week after the United States Supreme Court overturned Roe v. Wade. 
One of the messages on the church criticized the church for its pro-life stance. While another accused the church of being responsible for the deaths of Native American children back when boarding schools were a common practice. 
The church sent WKOW a statement given by Pastor Michael Radowicz, saying:
"St. Bernard Parish is saddened over the graffiti on the front of the church.  We understand people's anger over the recent ruling by the Supreme Court, but this does nothing to solve any issues. We join in prayer for those who did this, that the Lord may heal their hearts. An investigation is ongoing with Madison Police."
But, for some, this is not enough. 
"The church isn't going to apologize. The church isn't going to save us. And this is this is just the beginning. If we don't see any accountability being taken and if our rights and our concerns are being swept under the rug again," said demonstrator Sam Giguere. 
Police have not provided any updates on who they believe may be responsible for the graffiti.