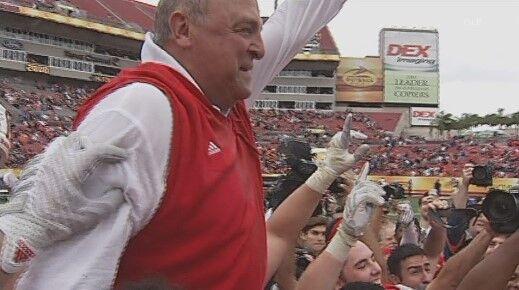 MADISON (WKOW) -- The field at Camp Randall Stadium will be named for former head football coach and director of athletics Barry Alvarez.
UW-Madison Chancellor Rebecca Blank made the announcement during a ceremony held at the field Friday night.
"Barry Alvarez has had an immeasurable impact on the UW-Madison campus, beyond in the state and in college sports," Chancellor Blank said during the ceremony. "And that type of career deserves recognition at the very highest level.
Plans are for the words "Barry Alvarez Field" to be placed in the northwest and southeast corners of the field when the Camp Randall Stadium turf is replaced prior to the start of the 2022 season.
Alvarez is the school's winningest football coach. He spent more than 30 years at UW, 16 as head football coach and the last 18 as director of athletics. He retired earlier this year.
"That was quite a surprise. I'm touched. I'm honored," Alvarez said in a news release sent by the athletics department. "That means so much to me to have my name on this field. Thank you for this. For my name on the field, that is very touching and very meaningful to me.
"I've said this all along, I got into this because so many coaches touched my life. I love my players. To have the opportunity to see so many players come back, to me, that's what I got into this for. It wasn't about making money or having my name on the field."
The university plans to honor Alvarez at Saturday's football game Michigan at Camp Randall.