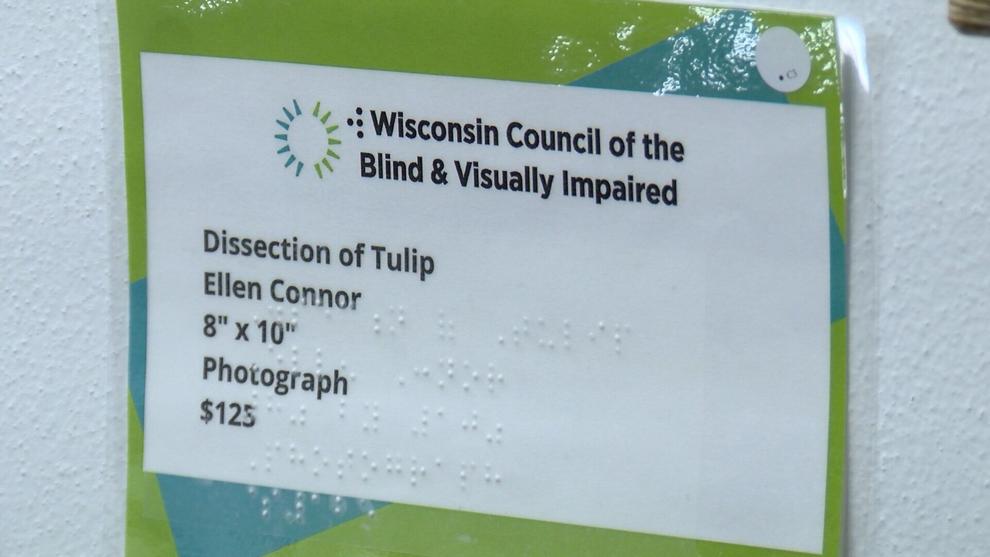 MADISON (WKOW) -- As a part of the Madison Museum of Contemporary Art's Gallery Night, visually impaired artists are displaying their work to combat stereotypes.
"I am over the moon excited to welcome you to the Wisconsin Council of the Blind and Visually Impaired," Denise Jess, Executive Director, said to the artists and supporters. 
In a small building on Williamson Street, artists and supporters gathered to walk the gallery and learn about the adaptable technology the council has to make art accessible. 
"Painting is such a wonderful outlet. It's just a way to express feelings," artist Phyllis Stuart-Jacobson said. "And believe me, there are a lot of feelings that come about in the life of a person who's visually impaired."
Stuart-Jacobson has been painting for 20 years and hasn't let up as her vision changed.
"Probably 10 years ago, I really started losing a lot of vision. And then, about three years ago, I began to lose an awful lot of vision," Stuart-Jacobson said. 
She now has no vision on her right side, and very limited vision on her left but feels empowered by other artists at the Wisconsin Council of the Blind and Visually impaired.
Of course, the night is to celebrate the artists' work, but it's also a way to remind a community of people with impaired vision that they don't have to give up the things they love.
"Finding out that there was an art show and that people who had deteriorating vision were able to still produce art, that just gave me a lot of inspiration and enthusiasm that I hadn't had," artist Ellen Connor said. 
Connor turned to the council when she needed help with magnification for computers at work. Photography became a part of her life when she had kids and wanted to document making family memories.
As she started to lose her vision, she wasn't sure if it could still be a part of her life.
During a class in the council building on adaptive technology for screens, she saw a big picture of a squirrel on the wall and realized it was done by a council patron just like her.
"I was focused before on, 'Oh, this is getting worse. And this is getting worse.' It really changed the way that I was looking at the situation, which was unexpected and a real gift," Connor said.
"Our work is to promote the dignity and empowerment of people living with vision loss," Jess said. "To help people really understand that we are full, vibrant human beings. That we're not kind of a stereotype or a narrow definition."
Jess is working to reverse stereotypes of what people with vision impairments can contribute to their community. With the right technology and the right training from places like the council, people with vision impairments can do most anything they want to.
"It really is our mission in action," Jess said.
If you'd like to support these artists and the council, visit their website.