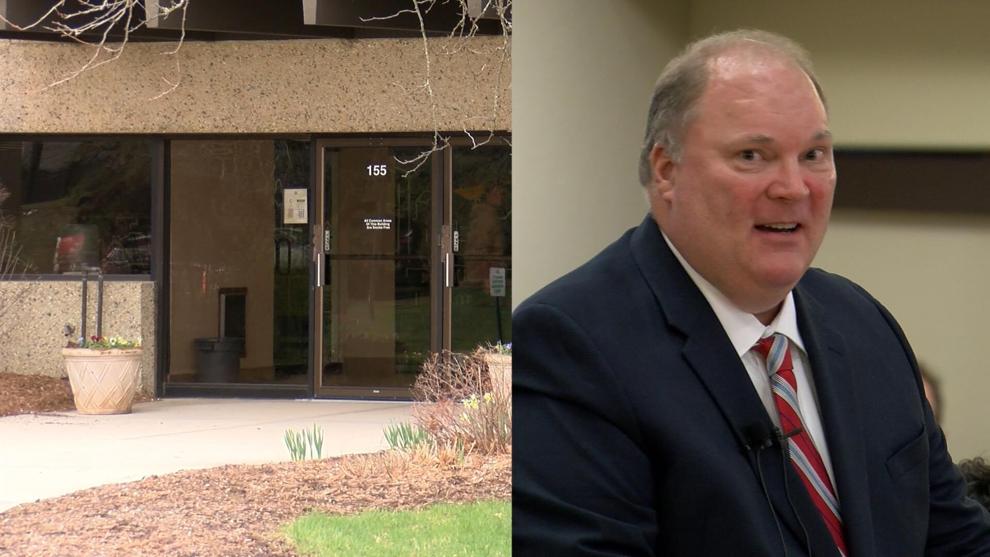 BROOKFIELD (WKOW) -- Nearly three weeks after Michael Gableman asked supporters of his review of the 2020 election to pressure the legislature's top Republican into keeping his investigation going, Speaker Robin Vos said Tuesday Gableman's office will remain open.
27 News found at least one person working inside Gableman's leased Brookfield office; that person declined to say who he was or for whom he was working.
Vos had previously said he wanted lawsuits over Gableman's authority to question election officials to be resolved before closing down the Assembly's election investigation. However, his office had not responded to questions about what would happen once Gableman's amended contracted ended April 30.
On April 7, Gableman appeared on Steve Bannon's podcast and said Vos had essentially giving him an end date when the speaker's office would have equipment removed from Gableman's office.
"I'm getting calls from Speaker Vos's office telling us they're gonna pick up our office equipment on April 26," Gableman told Bannon.
On Tuesday, 27 News went to 200 South Executive Drive, the address listed on subpoenas Gableman issued to officials with the Wisconsin Elections Commission and in the state's five biggest cities, who he's targeted over their receipt of private election grants from a group largely funded by Facebook founder Mark Zuckerberg.
Workers at the front desk said Gableman's team no longer worked there and had been gone for months. A subleasing agreement shows Gableman had been sharing office space with the Thomas More Society and the Minnesota firm of Erick Kardaal, whose lawsuit seeking to block certification of the 2020 election prompted a federal judge to recommend Kardaal be disciplined over bringing a "baseless" case before the court.
The subleasing papers showed a different address across the street from the first Brookfield location. A man answered the office suite door when a 27 News reporter rang the doorbell. 
"I don't know anything about that," he said when asked about April 26 being a possible clean-out date. 
The man said he wasn't answering questions when asked whether he worked for one of the subleasing firms or if someone from Gableman's office was inside. 
Renewed review
Vos had come under pressure this week from former President Donald Trump and Rep. Janel Brandtjen (R-Menomonee Falls), who chairs the Assembly's elections committee. Both pushed for the investigation to continue.
"Anyone calling themselves a Republican in Wisconsin should support the continued investigation in Wisconsin without interference," Trump said in a statement Monday.
One day later, Vos confirmed Gableman's work would continue with a reduced salary.
"Our intention is to remain within the original budget allocated for the investigation," Vos said in a statement.
Angela Joyce, the communications director for Vos, said the speaker has agreed to let Gableman buy the office equipment he originally billed to the state. Joyce did not respond to follow-up questions Tuesday about what equipment Gableman was buying and at what price.
Gableman received a taxpayer-funded budget of $676,000. Democrats say the budget cap is misleading because it doesn't include additional legal fees covering Gableman's ongoing legal fight to defend his ability to question election officials in private.
The Wisconsin Elections Commission and mayors in Madison, Milwaukee, Green Bay, and Racine have said they'd be willing to be deposed in public hearings but not at Gableman's office. Gableman has said Kenosha officials cooperated with his full requests.
"We have already seen that money to fight these subpoenas in court as well as to defend Speaker Vos and Mike Gableman from open records lawsuits has come out of other Assembly funding that is not part of that [investigation] budget," Rep. Mark Spreitzer (D-Beloit) said. "And it's all taxpayer dollars."
No one answered multiple calls placed to the number for Gableman's office. A recording said callers couldn't leave messages because the voicemail system has yet to be activated. 
A series of legal challenges and recounts in Dane and Milwaukee counties upheld President Joe Biden won the state in 2020 by more than 20,000 votes.
Reviews by the Legislative Audit Bureau and conservative Wisconsin Institute for Law & Liberty found the Wisconsin Elections Commission issued guidance that ran afoul of state law because issues like drop boxes and nursing home voting should have been established as formal rules instead of written guidance. However, those reviews also both state there was no evidence of widespread fraud that would've changed the election's outcome.
Gableman's investigation has largely mirrored those findings but has been criticized by both Democrats and Republicans over sloppy work, including handwritten reimbursement forms and misspelled names in court filings.