RICHLAND CENTER (WKOW) -- Ever since UW System President Jay Rothman announced in November that the UW-Platteville at Richland (UW-Richland) campus would be shutting down in July, the small campus community has been fighting to keep it open. 
Rothman cited low enrollment numbers for the campus' closure, but students and local leaders point to other problems in the campus' recent history. 
UW-Richland students Jackson Kinney, Avery Wilson, Maddie Yoose and Haley Zumach all sat down with 27 News on Wednesday to discuss their concerns. 
All of them couldn't believe the news when they received the announcement in their email the day before Thanksgiving. 
"I had to ask a bunch of people and like 'Is this legit, that can't be real," Zumach said. 
Wilson said the whole campus was "blindsided" by the closure and its timing around Thanksgiving. 
For Yoose, it was even more tragic, as she's the third in her family to attend the campus. 
"It was very devastating to me, because my mom and my sister went here," Yoose said. "And they've always encouraged it. It's kind of like a family tradition in a way."
System President Jay Rothman attributed the closure to low enrollment, after the campus' student population declined from more than 370 students in 2012 to just 58 today.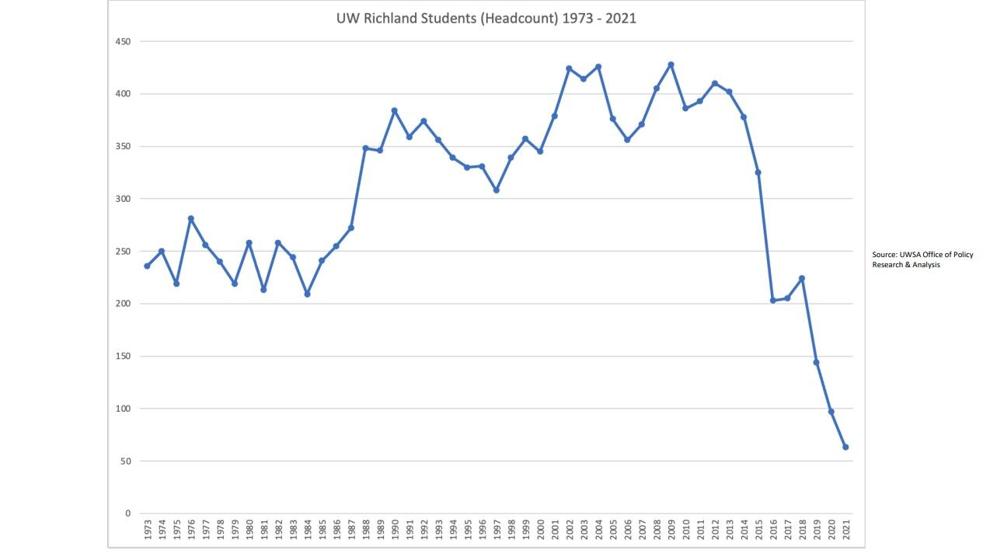 Rothman says it's a part of a national trend at 2-year colleges and technical schools. 
"The trends that Richland has experienced are trends that community colleges and two-year colleges across the country are seeing," Rothman said. "It was a difficult decision, but one I think that we had very little choice but to make."
But students and faculty point to other issues that they say started soon after regionalization and restructuring; this is when UW-Platteville acquired the campus in 2018 and several administration positions at UW-Richland were either eliminated or outsourced. It's also the same time period that enrollment began to decline.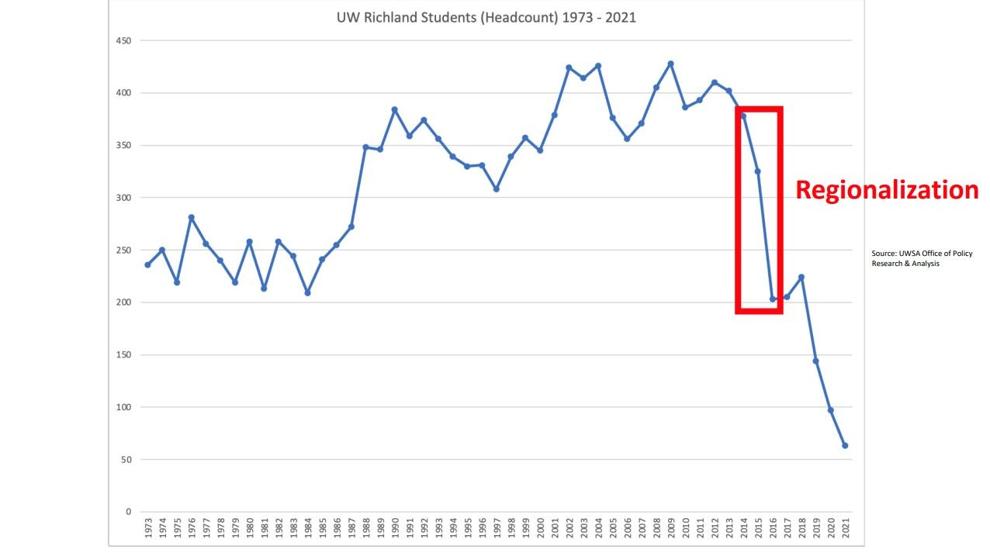 During the time period, the college's Dean of Students and Recruiter were both removed, which critics of the closure like Kinney, say had a big impact on student enrollment. 
"There used to be a recruiter that was here at Richland and went to over 50 area schools," Kinney said. 
State funding for UW-Richland also dramatically decreased during the same time period.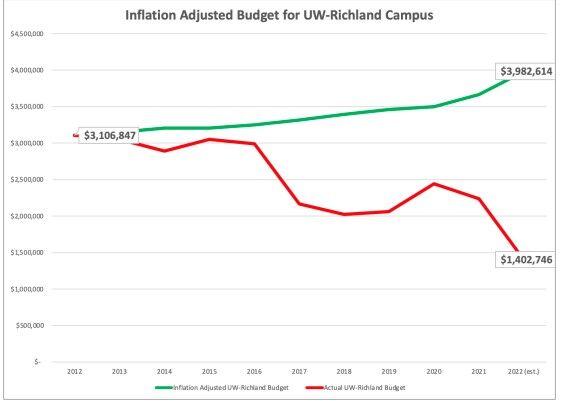 The issue has captivated the community in Richland Center, which in large part, is rallying behind the students and criticizing administrators like Rothman for lack of communication before making the decision. 
The Richland County Board says more than 200 jobs will be lost if the campus closes, and dozens of students left without affordable education. 
Because of that, Board members like Lisa Gentes are drafting a resolution which would call on $4 million of funding from the state legislature to revive the campus and give back its autonomy. 
"Maybe we could be that one UW college that they could show that you could turn it around again," Gentes said. "Because we know that we have students that want to come here." 
Rothman says the students currently enrolled at the campus will have to enroll in other UW branches to continue their education — a task he insists the school is assisting them with. He also says that he's hoping to bring some form of online program to the campus, although the UW Chancellor is still working on what exactly that will look like. 
"I could certainly see online rescaling and upscaling programs there," Rothman said. "We simply will transition the in-person academic instruction to either UW Platteville, the main campus, or the Baraboo branch campus."
But students like Yoose say their small student body is being cast aside, and many freshmen don't have the option to travel to Baraboo or Platteville. 
She and other students have started a petition with more than 1,000 signatures to keep the campus open, because they're afraid once it closes, it could bring the town down with it.
"I would really love to see this place thrive again," Yoose said. "I really think without this campus, this town is kind of fading."