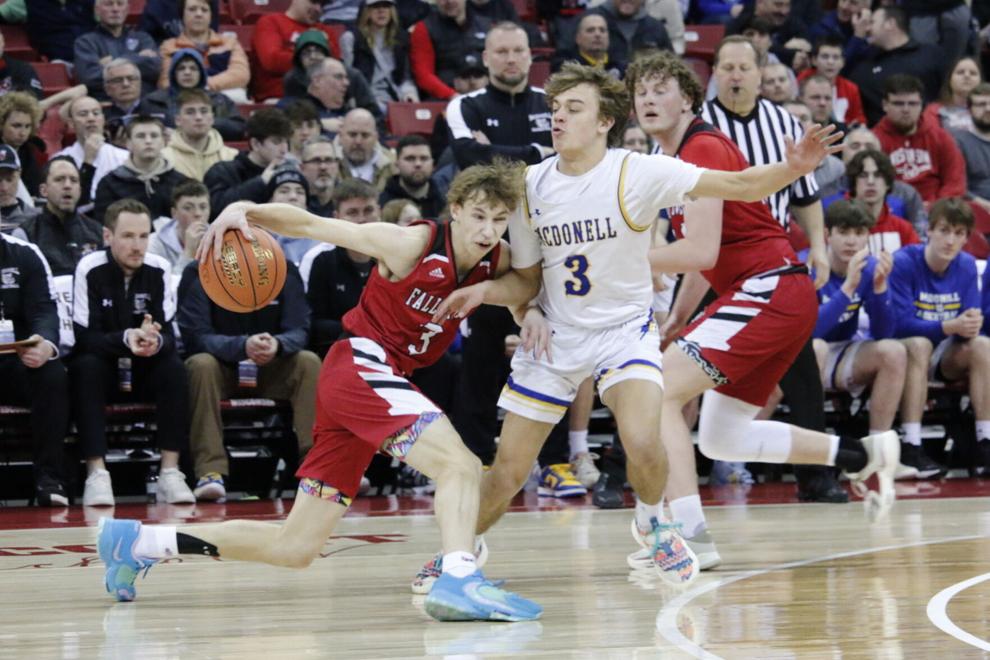 MADISON, Wis. (WKOW) - Aidan Misfeldt's 3-pointer with under 30 seconds left proved to be the difference maker as Chippewa Falls McDonell Central Catholic edged Fall River 66-62 in a nailbiter WIAA Division 5 Boys State Basketball semifinal Friday at the Kohl Center.
Fall River had a chance to tie in the waning seconds but an inbounds pass went awry and Eddie Mittermeyer hit two free throws with under a second left to clinch the win for the Macks. 
McDonell advances to the Division 5 title game and will face Wausau Newman Catholic tomorrow morning at 11:05 a.m.
RELATED: WIAA BOYS STATE BASKETBALL: Wausau Newman Catholic outlasts Royall, advances to D5 title game
It was a wild game of runs in the second half after Fall River led the entire first half. Fall River trailed 58-50 before a 10-0 run taking a two-point advantage but the Macks made clutch plays down the stretch to pull out the win. Canan Huss made an and-one layup to put the Macks up 61-60, but Colin Vieth put the Pirates back on top with 48 seconds left.
However, Misfeldt's 3 moments later propelled McDonell to the semifinal victory.
Fall River held a 32-25 halftime lead but the Macks raced past the Pirates with a second half barrage. Canan Huss led the Macks with 21 points and 12 rebounds and Eddie Mittermeyer added 19 points. Misfeldt finished with 12 points and five rebounds.
The Macks stormed back with a 18-2 run and turned a seven-point halftime deficit into a five-point lead. Mittermeyer canned a 3 from the left wing to give McDonell its first lead of the game at 40-37. Keagan Galvez then made an acrobatic and-1 layup forcing a Fall River timeout. 
After an opening 3 from Fall River, the Macks went on an 8-0 burst to pull within 35-33 with 14:40 remaining. Canan Huss canned a 3 and Keagan Galvez made an and-1 layup. 
Colin Vieth scored 12 of the Pirates' first 21 points, but despite an early double-digit advantage, McDonell came charging back with a 7-0 run.
Vieth finished 21 points to lead Fall River.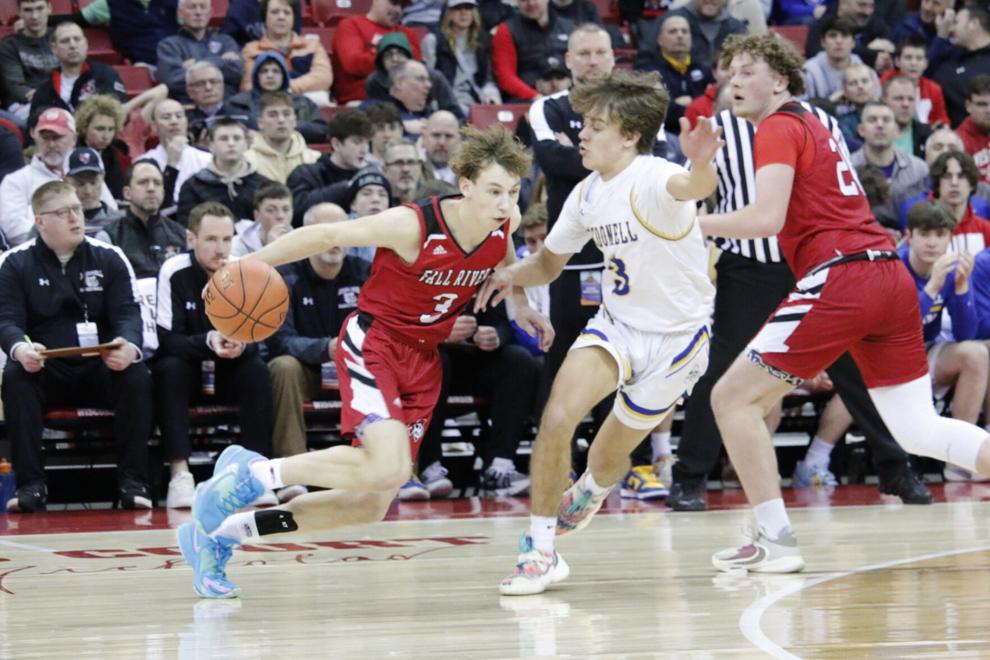 McDonell no stranger to the state tournament making 6 of the last 7 state tournaments and got back into the game. However, Vieth and the Pirates were able to stabilize and hold a 7-point advantage at half.