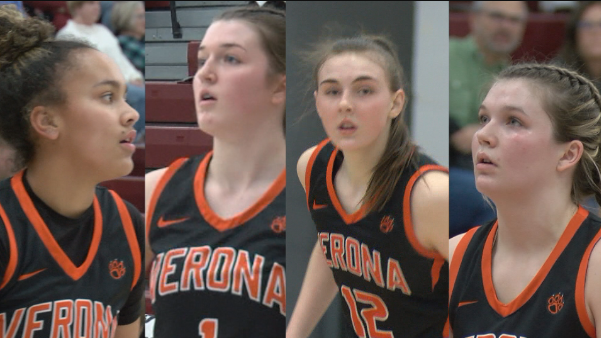 VERONA (WKOW) -- The Verona Wildcats own a perfect 11-0 Big Eight record thanks to their roster loaded with collegiate prospects. The group made a trip to the WIAA State Tournament in 2021. Two seasons later, that same group is on the brink of doing something special but with more experience under their belts. 
Junior Reagan Briggs wasn't afraid to forwardly mention the team's goal is to "win state" this season. Her classmate followed up on that sentiment. 
"We know what we want," the University of Iowa commit Taylor Stremlow said. "We know what we are. We're working hard for it. So yeah, it's definitely our goal is to get a 'ship."
Senior center Paige Lambe will head to St. Cloud State next season but wants to help the team take care of business.
"Everyone on this team can make an impact at any time," Lambe said. "Our bench is super deep. It does feel bittersweet, but I'm also excited for what's to come." 
Longtime head coach Angie Murphy reached a milestone by collecting her 300th career win. She's coached the Wildcats to a previous state title run in 2016 and senses the same determination in this group.
"This group is super competitive; they have high goals," Murphy said. "I've seen this group of seniors since they were in third, or fourth grade. Now, they're seniors and I'm like 'where did the time go'."
When this year's senior night arrives, it'll be emotional for a few reasons with her daughter Megan being one of the departing seniors.
"I was pregnant with Megan when I started here," Murphy said. She was used to hearing the whistles and used to hear me yell, so, you know, in a womb, she came out ready to go." 
Angie opted to not coach Megan until she reached high school. While there were growing pains, it will still be an unforgettable experience for both sides.
"There are definitely times when I get frustrated with her, and it's hard because she's my mom, and she's my coach," said Megan. "But it also can be really rewarding. She pushes me to be the best I can be. I can give her good feedback."
Angie added the time with her daughter during her high school years will be a time she'll "treasure."
Megan will play for UW-Stevens Point next season.