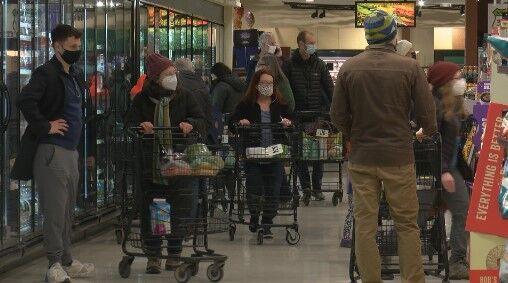 MADISON (WKOW) -- Food plays a central role in most Thanksgiving celebrations, which means grocery store aisles get busy this time of year. 
"People are shopping earlier in the week to get most of their staple items, and then they're coming in yesterday and today to really kind of get the perishable items," Tim Metcalfe, the co-owner and president of Metcalfe's Market, said Wednesday. 
He said, as he was preparing for the holiday rush, he was concerned the supply chain crisis would leave many store shelves empty. 
"We're hearing stories about shortages and possible outages coming into Thanksgiving, and, to be honest, it really didn't materialize," he said. "We have a few outages, but very few." 
Metcalfe said the grocery story ran out of small turkeys and was running low on cranberries as of Wednesday afternoon. However, there were alternate options available. 
"We ran out, but we have the bigger birds," he said. "We also have a lot of pre-made meals, so if you don't want to cook the turkey itself or the mashed potatoes or the stuffing, we have it all prepared in little tins for a family of six."
Thanksgiving week provides a big boost to grocery stores' bottom lines, so Metcalfe said he was glad to see big crowds. But he said preparing for the holiday is a big effort. 
"Thanksgiving is our Christmas, so it's a busy time of year," he said. 
That means Metcalfe and his employees have been putting in a lot of hours recently. 
"We're coming in at 4 a.m., we're going home at 11 p.m. just trying to keep the store stocked," he said. "We're a little short staffed, so it puts a little extra stress on the people that are here. You'll see me in the produce department. You'll see some people in accounts receivable stocking shelves. Everybody's working hard."
Metcalfe's Market stores will be closed Thanksgiving Day. Other grocery stores in the Madison area, including Hy-Vee, Woodman's, Festival Foods and Pick'n Save stores, will be open at least part of the day.