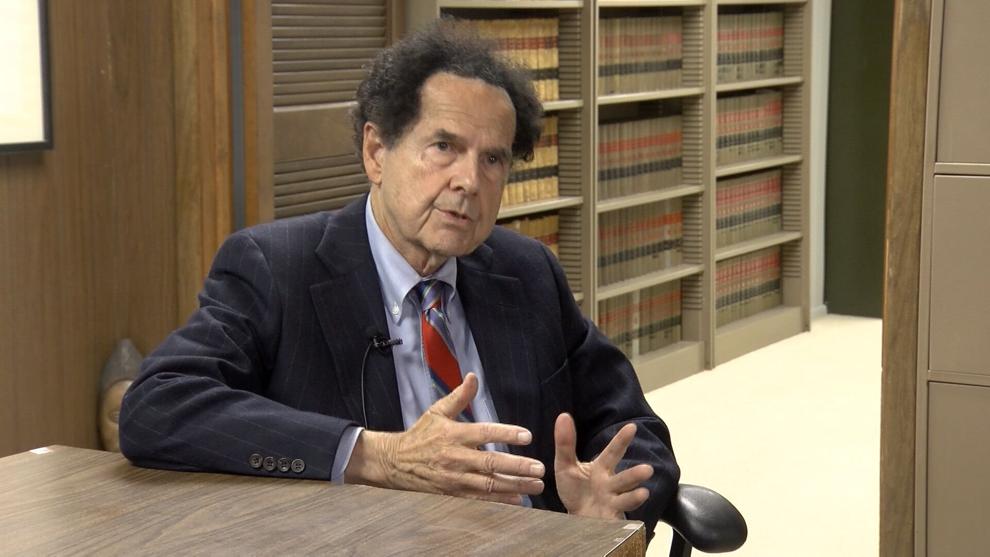 KENOSHA (WKOW) -- Terry Rose has been practicing law in Kenosha for 54 years. Judge Bruce Schroeder is the longest serving circuit judge in Wisconsin. The two have seen plenty of each other in the courtroom.
Rose said in an interview Wednesday, while some of Schroeder's behaviors have drawn national scrutiny, they're all things he's seen before in Schroeder's court.
"It's not just because it's Kyle Rittenhouse; he does this in everybody's case," Rose said of Schroeder's decision to let the teen draw the alternate jurors in his murder trial.
The case has polarized much of the country and is reflected in the two distinct camps making their presence known outside the Kenosha County Courthouse: those who believe Rittenhouse is a reckless vigilante-turned-murderer and those who see him as a protector who defended himself from two threatening situations.
Rittenhouse faces up to life in prison for the August 2020 shootings that killed Joseph Rosenbaum and Anthony Huber and seriously wounded Gaige Grosskreutz. The shootings happened after two nights of violent unrest sparked by the Kenosha police shooting of Jacob Blake.
Observers questioned Schroeder's decision to let Rittenhouse draw the alternate jurors' names out of a tumbler Tuesday before deliberations began. Rose said, as long as he can remember, Schroeder has allowed defendants to do that.
"There's nothing wrong with it," Rose said. "It doesn't tilt the scales either way. When a defendant sticks his hand in a cylinder and pulls out a piece of paper, he can't see what's on that piece of paper."
Rose is representing Nathan DeBruin, who was taking photographs the night of the Rittenhouse shootings. Rose said DeBruin was initially subpoenaed by both prosecutors and the defense, but only testified at the defense's request after alleging prosecutors asked him to alter his original statement.
Critics have said Schroeder's actions give the appearance of deference to the defendant. They also note Schroeder telling the courtroom to applaud a veteran on Veterans Day who was going to testify for the defense. 
Schroeder also rankled observers by allowing Rittenhouse to stand over his shoulder while they viewed video evidence.
"The defendant has the right to view the evidence and the witnesses against him," Rose said. "And if that is the best perspective for the defendant to see what is being viewed on a screen, I see nothing wrong with that."
Rose acknowledged much of Schroeder's actions that have drawn attention are not things he's seen in other courtrooms, but said he doesn't read much into since it's consistent with what he's always seen from Schroeder.
"Do other judges do that? I have not seen that in other courtrooms," Rose said. "Certainly nothing wrong with it."
'I think it's grounds for a mistrial'
Wednesday's deliberations brought a third motion from Rittenhouse's lawyers to declare a mistrial. They argued prosecutors gave them drone video showing Rittenhouse shooting Rosenbaum was of a considerably lower quality than what they played for the jury.
The defense previously complained about prosecutors trying to bring up a past incident Schroeder deemed inadmissible, the judge also scolded Assistant District Attorney Thomas Binger for bringing up Rittenhouse's previous silence before the trial.
Rose said another attorney showed him the videos Wednesday and said he believed there was no good reason for the disparity.
"It is very clear that the prosecution had a clearer, sharper video than was turned over to the defense," Rose said. "That really is inexcusable."
Prosecutors explained Wednesday they had tried to send the files via the Apple feature, AirDrop, but could not because the Rittenhouse lawyer who was supposed to receive the video had an Android phone.
They said once they put the video file onto a flash drive, it compressed the video, which worsens the quality but prosecutors said they didn't know that until the defense brought it up just now.
Rose said he was skeptical and added that in similar situations, the Kenosha County prosecutors have allowed he and his defendants into their office to view video evidence.
"Why didn't they call the defendant and his attorneys to their office and say 'Look, the one I have is much clearer, take a look,'" Rose said. "Show that to the judge, show that to jury. It's a very simple thing to do."
While Rittenhouse's lawyers have previously asked for a mistrial with prejudice, meaning Rittenhouse could not be tried again on the charges, their motion Wednesday was for a mistrial without prejudice, which would allow prosecutors to retry the case.